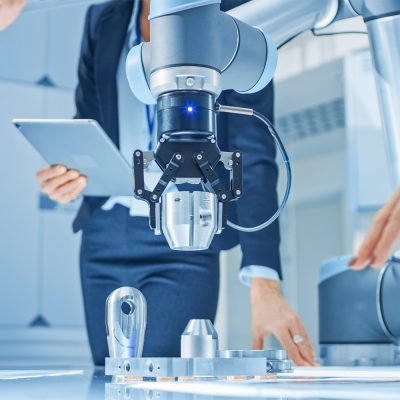 5G networks can easily support high-density, connected sensors to provide reliable, instant responses to develop more sophisticated processes that can drive efficiency in factories and warehouses.
Wireless technologies will improve processes as part of 'Industry 4.0' to digitalise manufacturing, increasing productivity at a lower cost, and reducing maintenance downtime.
Current wireless networks can provide adequate connectivity but as plants and factories grow, this will be a challenge for WiFi over larger areas. In contrast, the ultra-low latency, high reliability and high connections density offered by 5G will support the increasingly complex processes involved.
Example use cases
Machine to Machine (M2M): IoT connectivity is a key component of Industry 4.0 that will improve the flexibility, versatility, usability and efficiency of manufacturing. Integrating 5G with IoT, big data, AR/VR, AI and robotics will dramatically accelerate the pace of change. The fundamental change to the architecture, operation and management of networks offered by 5G can bring enormous benefits, in particular with the establishment of private LTE/5G networks
Business continuity and efficiency: 5G networks will allow increased customisation of production lines and reduced set-up costs, and also enable real-time monitoring to support business continuity. Efficiencies will be gained from extensive IoT-derived monitoring for predictive maintenance of machines and machine parts, enabling just-in-time servicing and replacement. Increased reliability and reduced latency will bring control workflow automation, and facilitate the real-time control of robotics and introduction of real-time AI
Supply chain: The potential benefits extend far beyond individual factories. With interaction between public and private networks, manufacturers can understand the provenance of all the parts and materials they use, supporting efficient methods of production such as just-in-time manufacturing, and increasing their understanding of their supply chains
How we help
Our S5GConnect programme is helping organisations of all sizes to unlock 5G's potential in key sectors, including manufacturing, and to put Scotland at the forefront of 5G technologies in this sector
In addition, our regular events bring together like-minded people to discuss challenges and collaborate on opportunities.
To stay in the loop, sign up to our e-newsletter and read our regular News updates.