Coverage
Ensuring organisations have access to cutting-edge technology and reliable mobile coverage.
5G Support
Supporting organisations to procure and deploy 5G networks.
Engagement
Demonstrating the value and potential of 5G to organisations.
Innovation
Fostering innovation and supporting organisations to access investment.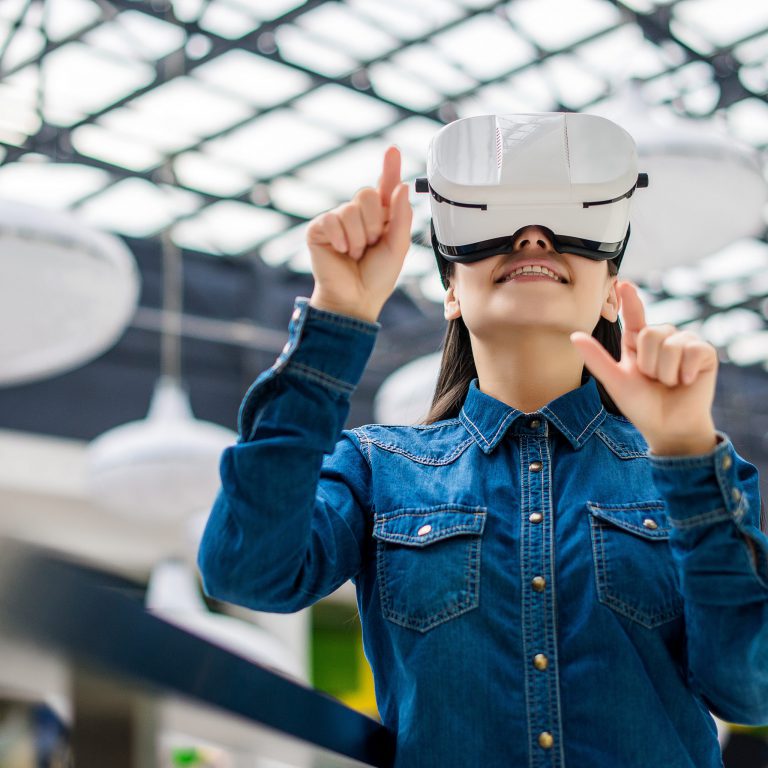 Our Innovation Hubs
We offer access to cutting edge 5G mobile private networks, exclusively here in Scotland. Our hubs are located nationwide, providing an opportunity for public and private sectors, start-ups, entrepreneurs and academic researchers to test new 5G enabled products, services and solutions. This is a unique opportunity for businesses to work with leading industry experts and explore how a 5G network could support your digital transformation journey.
Support
Take advantage of our impartial and expert advice – tailored to your business needs.
Access workshops and live demonstrations
Find out more about how 5G can transform your business
Innovate
Work with us to develop 5G solutions to grow your business
Work with our experts to look at solutions that will meet your needs, challenges and opportunities
Test these solutions using our state-of-the-art private 5G testbed
Get access to the latest industry applications including sensing technology and robotics
Collaborate
Work with us to put your ideas into practice
We can connect your to our extensive network of industry partners to deploy your 5G solution
Get advice from us on the range of funding opportunities available to support your digital transformation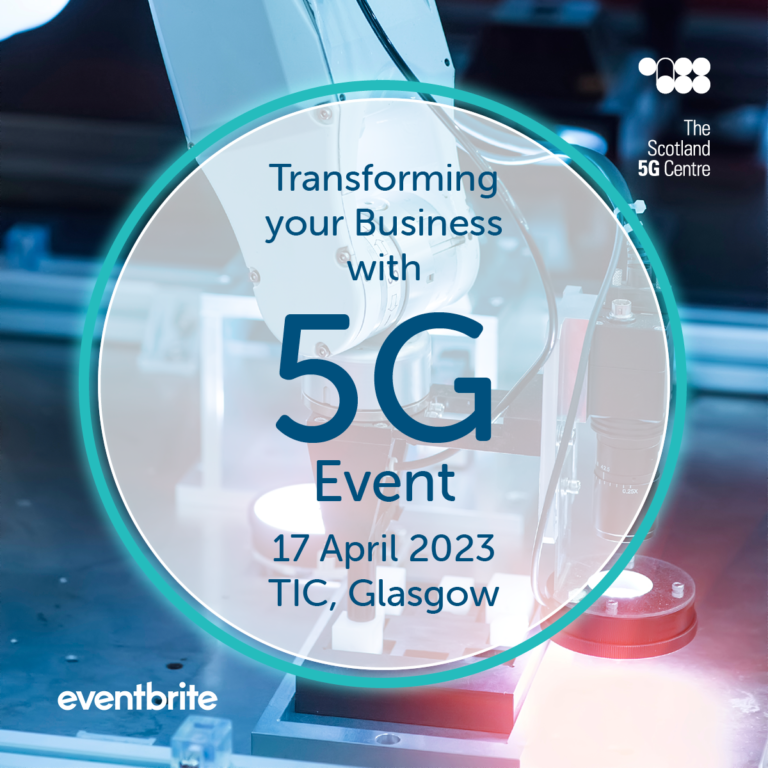 Event: Transforming Your Business With 5G
Join us on 17th April at the Technology & Innovation Centre in Glasgow for our first national 5G showcase event. Discover innovative use cases, that show how 5G is transforming everyday business operations, increasing efficiency and reducing costs.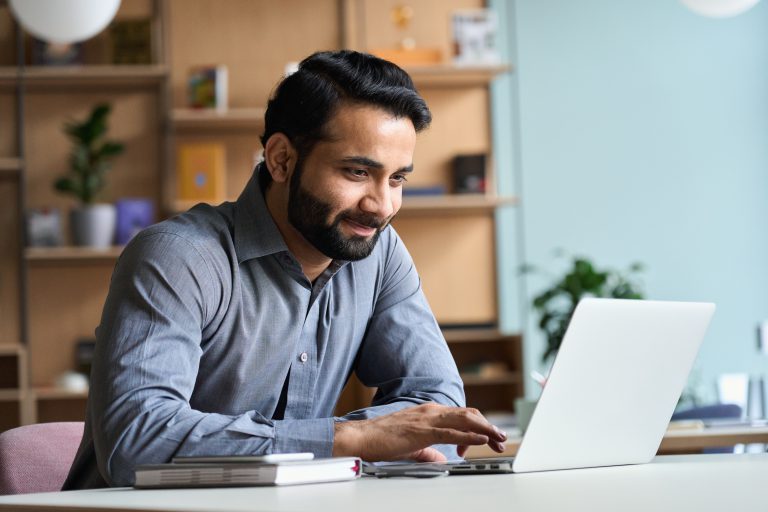 Brochure
Our online brochures provide you with the same information as the printed brochures, but is faster and much more environmentally friendly.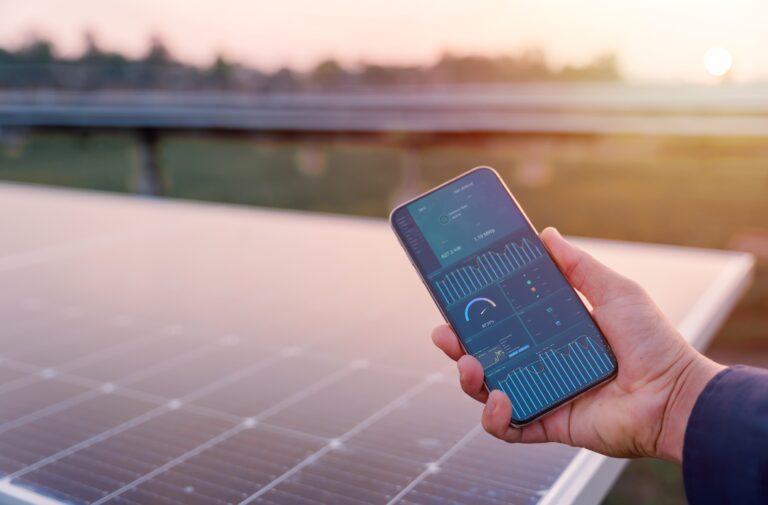 Spectrum Licence Guide
For guidance on how to apply for an Ofcom Spectrum Licence, check out our handbook here.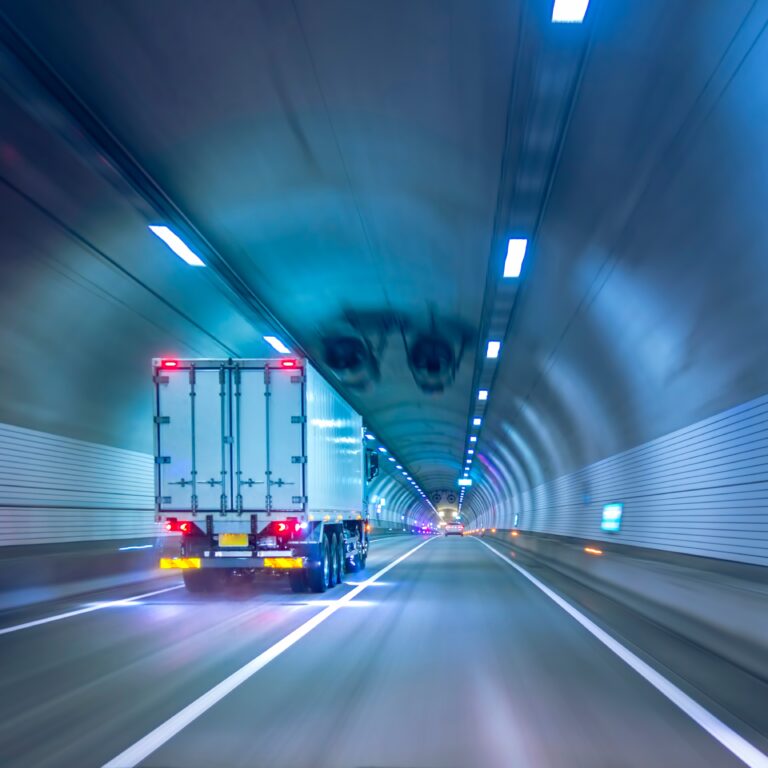 Scotland 5G Centre Event Provides Pathway to Transform Scottish Businesses
Published: 16th March 2023
Taking place on 17th April 2023 at The Technology & Innovation Centre, Glasgow, The Scotland 5G Centre is holding an event, Transforming Your Business With 5G.  The event will bring together key leaders in the 5G space to give Scottish businesses the opportunity to learn about the transformational benefits that 5G technology is bringing to multiple industry sectors.
Over a hundred organisations are expected to attend the event next month, where they will get the opportunity to engage with the Scottish Government funded Centre and hear from industry leaders including Vodafone, The Data Lab, BE-ST and CENSIS.
Attendees will hear about the Scotland 5G Centre's free range of support services and how they can access the state-of-the-art 5G testbeds that are in rural and urban areas across the country within the Centre's innovation hubs.
Ian Sharp, Head of Strategy & Delivery, The Scotland 5G Centre said:
"The event is designed to inspire organisations throughout Scotland and learn first-hand about the enormous impact that 5G technology is having on everyday business operations including increasing efficiency, reducing costs, improving and future-proofing systems, operations, and products. For Scottish businesses looking to gain a competitive advantage and overcome difficult economic challenges, 5G technology provides an exciting pathway to success."
The event has limited capacity, and is free to register on Eventbrite.

International Women's Week – Introducing our Board of Directors
Published: 6th March 2023
This week at The Scotland 5G Centre we are celebrating some of our Board Members
The theme for International Women's Day this year is 'embracing equity', celebrating women's achievements while raising awareness about discrimination and acting to drive gender parity.
At The Scotland 5G Centre we are proud that over 50% of our Board Members are female, compared to the UK average of women's board representation – across the FTSE 100 only around 39% of board members are women.
Demonstrating a major sea-change in attitudes and behaviours, there's been huge improvements over the last 15 years. There are no longer any all-male boards in the FTSE 350 as of 2021, in comparison to 2015 where there was 15 and to 2011 when there was 152 within the FTSE 250 alone!
This week we celebrate how far we have come as a nation, reflecting on our achievements and considering how we can support women in the industry and work towards gender equality in the workplace.
Let us introduce you to some of our S5GC Board Members!
Fiona Smith, Non-Executive Director
Tell us about your career so far?
I've spent my career in airports, developing operational strategy and innovation initiatives in airports from Scotland to as far as New Zealand. I am currently responsible for setting the strategy for AGS Airports group in future air mobility and its impact on sustainable aviation, airspace design, air traffic and aircraft noise. I am also project Director of CAELUS, A £10m Innovate UK funded project, designing and demonstrating a national eco-system for drones serving NHS in Scotland.
As a member of the S5GC board, what's the best thing about your role?
I passionately support the development of new technology and in particular that with sustainability benefit, both from an emissions reduction perspective and also from a socio-economic point of view. The potential for 5G and advanced connectivity is huge in sectors capable of making a real impact such as health, agriculture and transport. It's exciting to play a role in support of the S5GC to potentially enable businesses to help accelerate that change.
What advice would you give to women considering taking on roles such as Director and Board Members?
It is easy to think that you don't have the experience to be a Director or that a board role is for someone already operating at Exec level but this isn't always the case. Look to your existing experience – how many committees have you held an active role or even chaired? Do you feel comfortable giving challenge on a topic you feel passionately about? This is all fantastic grounding for a Director role. You can offer much more than you think and we all have to start somewhere – so take the leap! There are plenty of good resources online and I found Women on Boards to be really helpful at the start. There are some great resources for women in STEM out there.
At your level what actions do you take to work towards gender equality in the industry?
The aviation industry has made great progress in recent years but even so, 40% of women in my industry still say there is a lack of opportunity for advancement so there is still a long way to go. Having visible and publicly recognised female role models at each level of the organisation is critical to progression so I make myself visible wherever I can, no matter how uncomfortable that can sometimes feel! I am also a true advocate of mentoring and have been both mentor and mentee on the ALTA mentoring scheme for women in aviation. I champion gender equality in AGS and try to shine a light on talent in our organisation whenever possible.
Fun Fact: What is your favourite piece of technology?
As Project Director for CAELUS, I believe that drones have a significant role to play in sustainability as a tool to reduce social inequality, particularly around health care. We partner with NHS Scotland to understand and demonstrate medical use cases across urban, rural and remote communities across Scotland. Drones will absolutely play a vital role in all of our everyday lives in the future.
Olga Kozlova, Board Member
Tell us about your career so far?
I am the Director of Innovation and Industry Engagement at the University of Strathclyde where I lead entrepreneurship and investment functions, industrial engagement and the development of the Technology and Innovation Centre Zone within the Glasgow City Innovation District.
Before moving to Strathclyde, I was the founder and director of Converge Challenge – the leading company creation programme aimed at students, graduates and staff of all nineteen Scottish Universities. I started my career as a Royal Society of Edinburgh Enterprise Fellow, before moving on to become a founder and a CEO in a biotechnology start-up company and afterwards working in business development and knowledge exchange in life sciences sector.
As a member of the S5GC board, what's the best thing about your role?
Being a member of S5GC Board has been really interesting as the Centre works with SMEs across all sectors and different regions of Scotland. It's exciting to see so many different applications of 5G technology to businesses and also, I love the fact that 5G is so much more than just about your mobile signal.
What is the most important leadership skill?
For me, the most important leadership skill is being able to build partnerships. Collaboration, whether it is within one organisation or across many different ones-is the force that brings true successes. Helping people to unite behind one vision and then achieving it-this is what transformational leadership is about.
How can we encourage more women into the technology sector?
I do believe that education and role models play a key part in bringing more women into technology. Girls should be taught at school that having a successful and rewarding career in technology is just as appropriate as becoming a teacher or a doctor. And they also should be able to meet role models from different stages of a career journey during their studies in schools, colleges and universities.
Fun Fact: What is your favourite piece of technology?
My iPhone – it has my life in it!
Sarah Eynon, Board Member
Tell us about your career so far?
I trained as a lawyer and enjoyed the varied nature of the role but wanted to be involved more in the end to end process of identification, design and delivery of projects and programmes. I initially transferred my skills to digital as the commercial director in a national broadband roll out programme giving me my first exposure to the opportunity and challenges of digital connectivity in Scotland. Since then I have worked to bring people together via projects and programmes to overcome these challenges and promote digital infrastructure as a key enabler.
As a member of the S5GC board, what's the best thing about your role?
I enjoy contributing to an organisation that enables change by bringing together innovators from across Scotland. We could all do it independently, but that is not where the impact lies.
What are your thoughts about digital innovation and its potential for Scotland economy?
It is no longer about just 'doing technology', it is about identifying a problem or an opportunity and then examining how technology can help you solve that issue or excel in that market. There are so many new technical options available together with changes in regulation and legislation that will unlock the digital divide for Scotland. Digital innovation is the under recognised enabler in every impactful project in Scotland.
Do you have a role model in the industry?
Ceren Clulow, formerly of Nottinghamshire County Council and now at Cambridgeshire County Council is a tireless and passionate advocate for her region and the benefits of digital connectivity. She is always happy to share her experiences to help others on the digital journey and really takes an inclusive approach into her projects. She exudes a can-do approach and galvanises the stakeholders that she works with. I try to take some of that approach into my own work.
Fun Fact: What is your favourite piece of technology?
Anything that lets me listen to podcasts. I love that moment to yourself regardless where you are, and listening to the randomness of the This American Life podcast.
We are definitely lucky here at the S5GC to have such strong, female leaders and we hope their examples, careers and achievements can inspire other women considering applying for these type of roles.
Follow our social media channels (Twitter & LinkedIn) during this week to find out more about the women at the S5GC and sign up to our newsletter to be the first to know about our events, articles and job vacancies!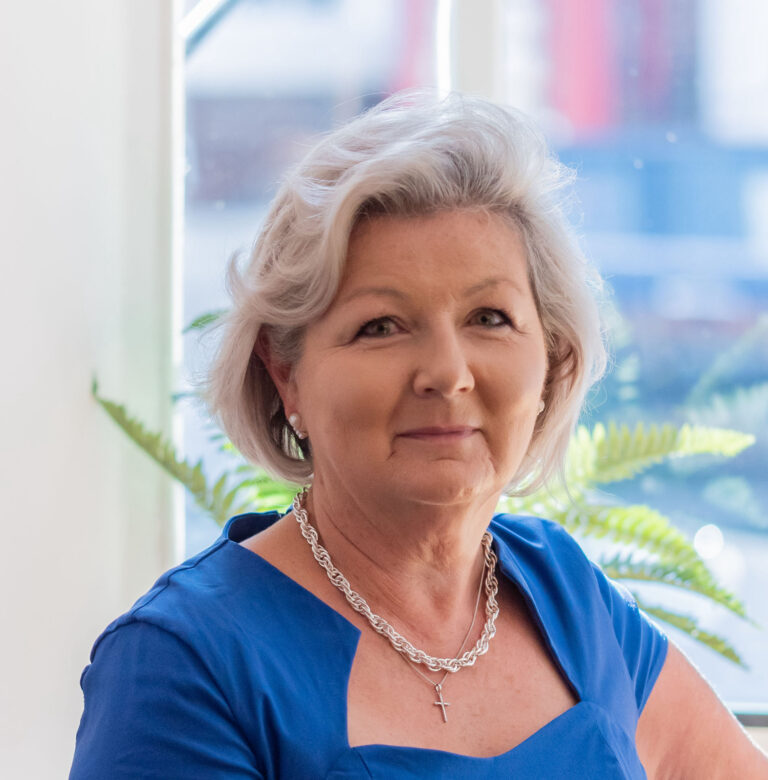 Sad News on the Passing of Julie Snell, Chair of The Scotland 5G Centre
Published: 6th March 2023
It is with great sadness that we announce the passing of our Chair, Julie Snell, who died peacefully at St Richard's Hospice in Worcester.
Julie, was hugely respected by all and will be greatly missed by both colleagues at The Scotland 5G Centre and also those that had the pleasure of working with her.
Following her role as CEO and Director of Bristol is Open, Julie was appointed as the first Chair of The Scotland 5G Centre in May 2020. The Centre greatly benefited from Julie's vast experience, contacts and sector knowledge, during her time as Chair.
With over 35 years' experience in the telecoms sector, Julie was named as one of the UK's top smart city leaders. She used her influence to inspire and support more female talent to deliver transformational change within the sector.
Always passionate about innovative technology and its application, Julie was also involved in the healthcare sector. In 2021, she became a non-executive Director of the Hereford and Worcestershire Health and Care Trust, as well as the Interim Chair of the Worcestershire Local Enterprise Partnership.
Throughout her career, Julie was a non-executive director of Col8 Ltd, a company combining video and data giving users an intuitive interface. She was also Vice President of Urban Technology Alliance providing city-scale testbeds to deploy and test smart city innovations; and she was part of the leadership team which developed BT's first public WiFi project BT Openzone.
Derek Waddell, The Scotland 5G Centre, said: "This is very sad news. Julie was an inspiring Chair who knew and supported all of the Centre's staff and provided leadership to the members of our Governing Board.
"Julie had an incredible knowledge of the potential for advanced technology. She was passionate about the benefits and impact 5G will bring across business sectors in Scotland. She was incredibly well respected and I'm sure the news will shock many people. She will be deeply missed".
"She leaves an incredible legacy and on a personal level I'm so grateful for her guidance, kindness and counsel. We send our deepest condolences to Julie's family."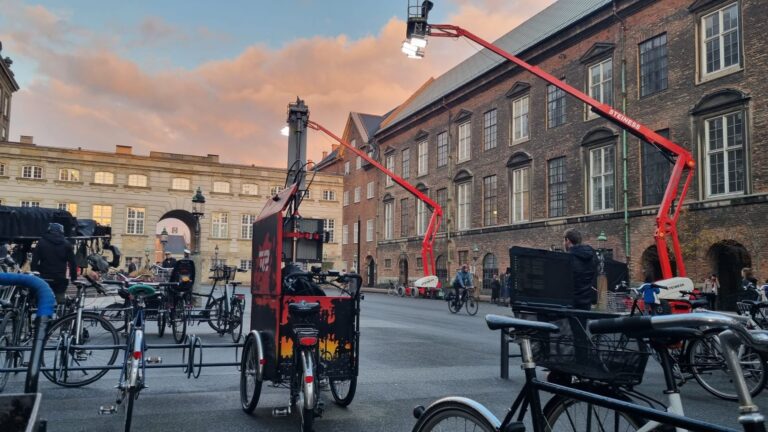 5G private network solution developed by Strathclyde scoops top industry award
Published: 10th February 2023
The innovative team behind a global project which proved the portability of a flexible, private 5G 'network in a box' for live TV broadcasts has been named the IBC Accelerator Project of the Year for 2022.
The University of Strathclyde and Strathclyde spin-out Neutral Wireless, with support from the Scotland 5G Centre Wave 1 projects, led the cutting edge '5G Remote Production in the middle of nowhere' project.
It proved the portability of a flexible, private 5G 'network in a box' for live broadcast production use cases, for untethered broadcast production in real world scenes.
Designed by the University of Strathclyde's Software Defined Radio team, StrathSDR, and engineered by Neutral Wireless, the technology has been used for trials across the globe as part of the IBC Accelerator programme.
The pioneering initiative demonstrated a series of 5G-enabled media broadcasting proof-of-concepts by using remote geographical locations, including from a rhino conservancy on the Kenyan equator, a Maori school in New Zealand and a music festival in Ireland before the live Pitlochry Highland Games broadcast. It was also used as part of the live coverage of Her Late Majesty Queen Elizabeth II's final departure from Edinburgh last September.
Professor Bob Stewart, who leads StrathSDR, said: "With Neutral Wireless, we engineered our own 5G software defined radio in partnership with EU SMEs giving us complete control to create customised and bespoke SDR solutions.  The IBC Accelerator provided an incredible collaborative platform to work with the world's top broadcasters and supply chain partners to create real live operational networks in shared and lightly licensed bands."
Participants of the winning project also include AMD, Microsoft, Net Insight, Zixi, HAIVISION, Singular.Live, Nulink, AWS, Vislink and the local Glasgow based production company, QTV. The project was championed by BBC, BT Sport, BT Media & Broadcast, RTÈ, TV2, Olympic Broadcasting Services, Paramount and Warner Bros. Discovery, University of Strathclyde, Scotland 5G Centre, and Neutral Wireless.
Dr Cameron Speirs, CEO of Neutral Wireless, said: "It was a hugely successful team effort involving technology innovators, national broadcasters and local communities – coming together to solve technical and operational challenges and demonstrating that private (or non-public) 5G can positively disrupt traditional broadcasting workflows. Private 5G has come of age in media broadcast."
The award was presented at the IBC2023 Accelerators Kickstart Day at London's IET, aimed at broadcasters, platforms, studios and key media and technology vendors.
The IBC Accelerator Programme was launched in 2019, to support the media and entertainment industry with a framework for agile, collaborative and fast-track innovation through a multi-company project-based approach to solving complex media and entertainment business and technology challenges.
George Bevir, Editor, SVG and one of the judges for the IBC2022 Accelerators, said: "The range and number of Champions and Participants involved in the project was also a great example of the strength of the Accelerator programme in general, in being able to draw together an impressive group of organisations from a range of locations.
"The Proof of Concept and subsequent use for coverage of the Queen's funeral provided a clear demonstration of the work and progress of the Accelerator project."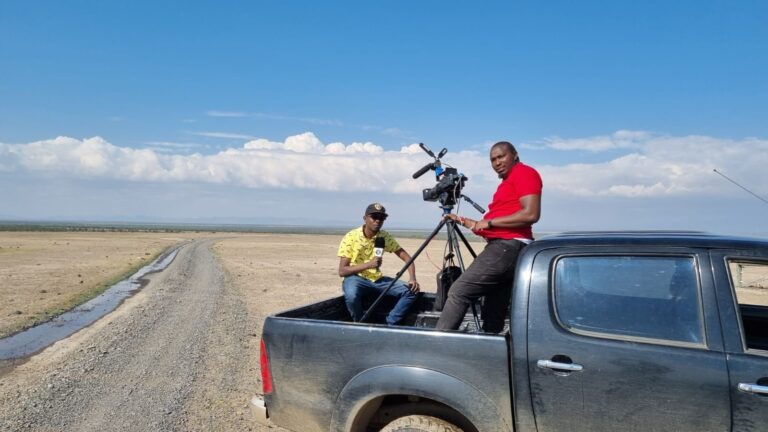 Pioneering 5G Trials create a new window on the world.
Published: 9th February 2023
The 'Lomond Network in a Box' supported by the Scotland 5G Centre's rural testbed project has been used all over the world on 'proof of concept' trials.   The results have shown remote production can be deployed to almost anywhere in the world, demonstrating enormous potential for live news. 
From the back of a bicycle at a Danish palace to a Royal funeral procession in Edinburgh, and from the foothills of Mount Kenya to the heart of Highland Perthshire, pioneering 5G trials are harnessing the latest generation of mobile connectivity to push the boundaries of remote live television broadcasting.
A team from the University of Strathclyde and spin out company Neutral Wireless Ltd has been at the cutting edge of live TV broadcasts by installing 'pop up' networks using 5G technology to explore the possibilities that new hardware devices and technologies offer.
Outside broadcasting (OB) has many logistical challenges – especially when it takes place over wide areas, with large, heavy equipment and lengthy cabling. The fifth generation of mobile technology, 5G isn't yet a standard part of OB, but the '5G Remote Production in the Middle of Nowhere' project is piloting new ways to broadcast with Neutral Wireless technology – the portable private 5G 'Lomond Network in a Box' and operating on shared or other private radio spectrum.
Designed by the University of Strathclyde's Software Defined Radio team, StrathSDR, and engineered by Neutral Wireless, and supported by the Scotland 5G Centre rural testbed project, the technology has been used for 'proof-of-concept' trials across the globe and cultures.
The team travelled to Denmark to cover the national elections from Christiansborg Palace in Copenhagen, the seat of the Danish parliament. Working with national broadcaster TV2, the NIB on the back of a bicycle wirelessly captured the excitement of election night last November over a closed 5G private network.
In a world first for television production, Strathclyde and Neutral Wireless also worked with outside broadcast specialist QTV, to capture images for the international broadcast feed from Edinburgh Airport of the late Queen Elizabeth II's final departure from Scotland in September.
A trial four thousand miles away took the team to the Ol Pejeta Conservancy near Mount Kenya, home to the endangered Grevy's zebra and Jackson's hartebeest. The conservancy is also the largest black rhino sanctuary in East Africa and its' pioneering initiatives include rehabilitating animals rescued from the black market. The technology was tested to live stream to Youtube, featuring local youth TV hosts.
The rural Te Kura Kaupapa Māori o Bernard Fergusson junior school in Ngāruawāhia, Waikato on New Zealand's North Island hosted the penultimate trial, in conjunction with Māori national television broadcaster Whakaata Māori and the Interim Māori Spectrum Commission.
Video of the school kids performing the traditional Māori martial art Mau rākau was captured by the Lomond NIB and beamed via satellite link to Whakaata Māori studios in Auckland for post-production.
From the Mau rākau to the Highland Fling, the Pitlochry Highland Games last autumn took centre stage at another trial. As dancers performed to bagpipes and cabers flew through the air, the games were provided with a dedicated bandwidth using shared spectrum, with no interference or capacity issues affecting the quality of transmission – even in big crowds where many spectators were using their mobile phones and the local WiFi. The production broadcast multiple live streams from the games into IBC, the International Broadcast Convention in Amsterdam, where thousands of media and entertainment technology executives meet annually.
The stand-alone 5G private network aims to provide portable technology capable of instantly beaming images anywhere in the world, whether it's giraffes in Africa or traditional Highland dancers. Its' private nature means access is strictly controlled and media broadcasters have assurance of the resilience and control over the quality of service for "their" network.
Spectrum sharing is a way of enabling multiple users to safely share the same frequency bands but operate in different locations.   Private 5G networks also have the potential to control multiple cameras over the same network under a single spectrum licence, as well as audio equipment, communications, and data transmission.
Professor Bob Stewart, who heads the University of Strathclyde's Software Define Radio (SDR) team said: "We have built a truly private network using shared spectrum which broadcasters can have complete control over. Our trials prove the concept that you can be rural and still put the technology into action to make an untethered 5G network. We've shown that a private 5G network can be highly portable and rapidly deployed anywhere – worldwide."
Dr Cameron Speirs, CEO of Neutral Wireless Ltd, said: "We've now successfully demonstrated our Lomond 5G private NIB in all kinds of media broadcast environments where it has proved effective, easy to deploy, resilient and provides a significant enhancement in data transfer performance over other traditional wireless technology. As a result, the media and sport broadcast community has now begun to embrace private 5G communications as a game-changer in supporting their media production workflows."
IBC, who managed this and other Accelerator Media Innovation projects, attracted a host of global household names, including a technical team of experts from Microsoft and media companies including the BBC, BT Sport, BT Media & Broadcast, RTÈ, OBS and Paramount, as well as the Scotland 5G Centre and Neutral Wireless.
Mark Smith, who heads the Accelerator Programme for IBC said: "The project took the Accelerator ethos of 'hands on experimentation' to another level, successfully demonstrating to the media and entertainment sector that remote production using private 5G can be deployed to almost anywhere in the world providing that adequate backhaul capabilities are available."
"The project has been a significant step forward, potentially unlocking a host of new creative possibilities for live news, events and sports coverage."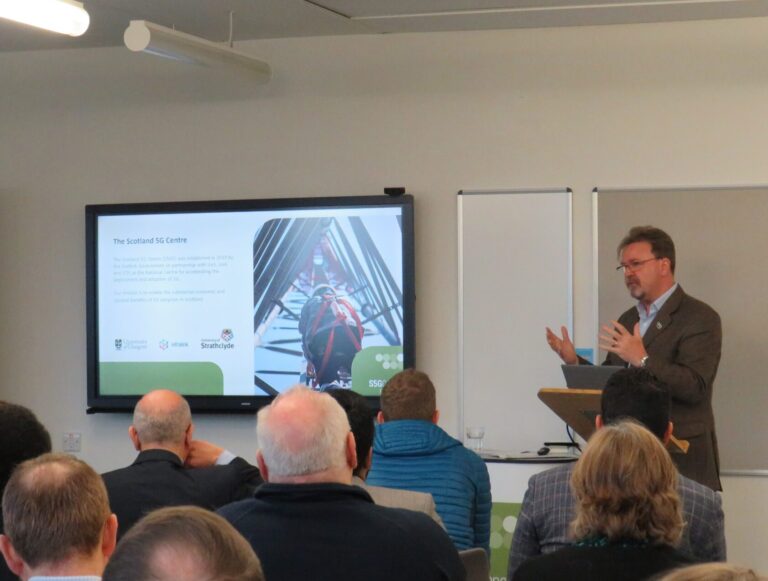 How 5G plays an Important Role in Reducing Carbon Emissions
Published: 26th January 2023
This week, The Scotland 5G Centre and CeeD co-hosted an event on How Data Connectivity Underpins Visible, Verifiable and Valuable Environmental Monitoring.
The event, which took place at S5GConnect Forth Valley, our hub based within Forth Valley College's Alloa Campus, brought together academics, businesses and local authorities to explore a collective approach to reducing carbon emissions.
With the rising cost of energy consumption and with carbon emissions fast becoming one of the world's most pressing challenges, it's important to re-evaluate energy usage and come up with a strategy to change our collective behaviours to save money and resources.
Building on CeeD's peripheral Wastemap® project with Topolytics to make business waste Visible, Verifiable and Valuable, turning data into actionable insights you can view in real-time, the event proposed how connectivity can play a key role in supporting businesses to achieve their individual goals and to work towards Scotland's ambitious climate targets for 2030 and 2050.
Tom Marchbanks, S5GConnect Forth Valley's Business Engagement Manager highlighted the opportunities within the region to lead on this step change with the Forth Valley area hosting over 4,000 businesses including Scotland's largest individual container port at Grangemouth which handles 9 million tonnes of cargo each year.
Referencing the opportunities especially within factories and large workplaces like distilleries, 5G and advanced connectivity can completely transform production lines, optimising and autotomising day-day tasks. For example, stock-taking in a factory can be an arduous process of lifting barrels and containers whereas with a private 5G network, this process can be safer and more efficient with drones scanning QR codes and collecting and logging precious data in real-time.
Rebecca Pankhurst, Manager of Scotland's International Environment Centre (SIEC), highlighted how these innovations can be applied to agriculture with Vertical Farming and controlled-environment agriculture, a technology-based approach towards food production, providing protection from the outdoor elements and maintaining optimal growing conditions throughout the development of the crops. SIEC aims to drive the creation of a net zero regional economy and stand as a global exemplar of leadership in responding to the climate emergency.
Tony Ianniello, Project Lead at CeeD, discussed 'imagineering' – the implementation of creative ideas in a practical form highlighting as an example the 1962 television show 'The Jetsons'.
The television show introduces the idea of a number of gadgets and devices which are in development or prevalent in today's society like smart watches, drones, walking escalators, video calls and flying cars.
Following the presentations, our partners at the University of Glasgow's Communication, Sensing and Imaging (CSI) team illustrated the importance of timely data in the decision-making process using their Persuasive Energy Conscious Network (PECN) dashboard.
In the live demonstration over the hub's private 5G network, the team showed how the PECN can be used to monitor occupancy of a building and energy consumption through 5G-enabled LoRa technology. LoRa tags placed on seats in the building show whether a seat is occupied with this data being recorded in real-time allowing companies to understand energy consumptions patterns. Also measured, is light levels determining whether artificial light is required or whether the natural lighting is enough.
Read more about the University of Glasgow's PECN here.
Find out more about The Scotland 5G Centre and our innovation hubs here: https://scotland5gcentre.org/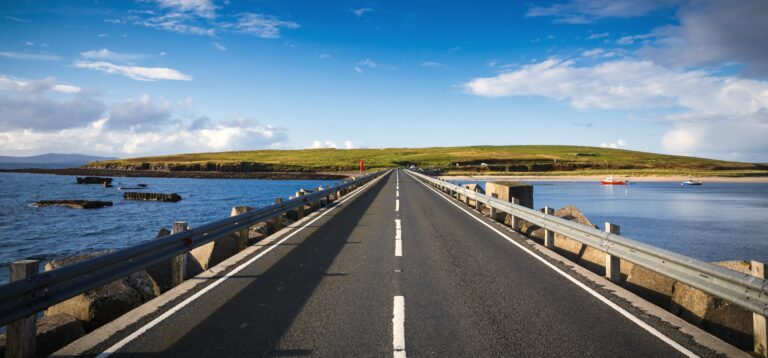 Real Opportunities for Businesses Across the 5G Spectrum
Published: 17th January 2023
First published in The Scotsman
On a recent car journey, I heard a news item about farmers choosing not to sow seeds as they can't guarantee workers will be available to harvest crops.  You reap what you sow and the consequences of this possible inaction in Scotland, when over 70% of its land area is under agricultural management, is a concern.
On the same day I visited one of The Scotland 5G Centre's five innovation hubs in Dundee for an open day to showcase the potential of 5G to local industry representatives, government agencies, SMEs and entrepreneurs. I learnt that the agricultural sector not only needed support to work the land, but also that technology could be a game-changer to automate vital stages, such as weeding, preparing the soil and harvesting.
Exchanging large amounts of data, real time in a secure manner isn't a unique challenge to agriculture. Many business opportunities are emerging, where private 5G networks can be deployed as a site-wide communications platform to enable new, innovative ways of working.  5G allows organisations to apply for their own slice of spectrum, meaning there's no interference issues from other users and it's more secure by design.  So, if Scotland wants a slice of this action, we're going to have to get good at deploying 5G networks.
Understanding its importance, The Scotland 5G Centre was created to help organisations adopt this technology and the recently launched 5G Connect Hubs are a key component of helping with this engagement at a regional level, delivering local economic impact. Moreover, the investment in the 5G test beds at each location make it risk-free for companies to trial their solutions prior to purchase.
Healthcare is a particularly exciting area, where private 5G can make a real difference. Not only will it present the opportunity for devices in a hospital to communicate away from a crowded Wifi network, it offers improved security for the transfer of patient data and becomes a platform on which to further innovate and drive operational efficiencies.
Elsewhere in Healthcare, the innovative Project CAELUS (Care & Equity – Healthcare Logistics UAS Scotland) is looking to trial the UK's first national distribution network to use drones to transport essential medicines, blood, organs and other medical supplies throughout Scotland. These remote operated aircraft require high bandwidth, real time communications for the take-off and landing phases and 5G is the only technology to meet these needs.
Advanced digital technology also supports the Scottish Government's ambition for the renewables sector outlined in its recently published 'Energy Strategy and Just Transition Plan.'  A site-wide 5G network in place for an offshore wind farm can support high quality camera images to transmit information about corrosion and potential defects prior to failure, improving up-time and energy generation. The same 5G network is able to gather operational metrics from each of the turbines. Augmented reality headsets can be worn by maintenance engineers conducting repairs with specialist support delivered remotely from on-shore based colleagues. This minimises the number of staff working in a hazardous environment and reduces the requirement for repeat visits when enhanced skills or knowledge are required.
It's easy to see that with the right wireless network in place, the potential for future innovation is huge.  I believe advanced digital technology such as 5G, with the support of our transformative hubs and the leadership of The Scotland 5G Centre, will enable key sectors to work smarter, be more competitive, and ultimately boost the economy. 5G is a platform on which further innovation will be born – starting with new healthy green shoots in our countryside.
Mark Hanson, Vice Chair, The Scotland 5G Centre