S5GC Partner Celestia UK wins navigation contract from ESA
Published: 4th October 2022
Celestia UK has announced that it has won a €800,000 ESA NAVSIP (Navigation, Innovation and Support Programme) contract to develop an innovative PNT solution based on LEO satellite constellations for 5G networks and applications, that will boost the reliability and performance of GNSS.
Called LEO-SYN+, the project will use LEO satellite Signals of Opportunity (SoOp) to provide a resilient position and time reference for 5G networks and improve the robustness of GNSS signals.
Time and Synchronisation are fundamental building blocks in 5G and GNSS systems play a pivotal role in the network operation.  However, GNSS signals can prove vulnerable to interference, for instance when blocked by objects such as tall buildings or trees, and require augmentation with supplementary technology to deliver the level of reliability and longevity required.
Celestia UK's solution is to combine the use of LEO satellite constellation signals with the development of a PNT receiver compatible with multi-GNSS constellations and LEO SoOps and test the solution in 5G networks.
During the project, a prototype will be produced to validate the product design and the technology development, paving the way for additional applications of the technology to other critical infrastructures after the initial ESA NAVSIP roll-out.
To deliver the ambitious project, Celestia UK is partnering with Heriot-Watt University who bring extensive knowledge in Satcoms and Digital Signal Processing and The Scotland 5G Centre, the national centre for accelerating the deployment and adoption of 5G and realising its economic and societal potential for Scotland, https://scotland5gcentre.org/.
"It is a great benefit for the business to have won an ESA NAVSIP contract and we are looking forward to collaborating with ESA and our partners to unlock the potential to improve the resilience of 5G networks with our PNT solution," says Malachy Devlin, CEO of Celestia UK.
"Building on our expertise in high throughput electronic steerable gateways together with the evolution of 5G integrating non terrestrial networks together with the Scotland 5G Centre here on our doorstep, make us well-placed to meet the requirements of this challenging project and deliver a future-proofed solution with scope for considerable future commercial application," he says.
"The Scotland 5G Centre is currently providing businesses access to 5G services through a national network of innovation hubs, S5GConnect Programme.  It is well known that 5G will support higher data throughput and interactive services through reduced latency. However, 5G will also provide new possibilities for positioning, navigation and timing (PNT).  Use of advanced antennas and positioning over satellite will be critical for outdoor applications where precise navigation is essential to meet safety requirements for the likes of drone navigation and autonomous vehicles.  We are delighted to be working alongside Celestia UK, supporting the innovative LEO-SYN+ project, which will utilise our cutting edge 5G network," says Ian Sharp, Head of Business Development, The Scotland 5G Centre.
Note: NAVSIP is an ESA programme and the Contract was carried out under a programme of and funded by the European Space Agency. Disclaimer:  The view expressed herein can in no way be taken to reflect the official opinion of the European Space Agency.
The Scotland 5G Centre Launches S5GConnect Forth Valley 5G Testbed
Published: 29th September 2022
The Scotland 5G Centre and BT are transforming the future of the workspace and delivering 'greener' options for Scottish industry
The Scotland 5G Centre launch 5G hub and testbed at Forth Valley College's Alloa Campus,
The 5G Testbed is live, accessible and open to the market to support the creation and acceleration of the application of new 5G-enabled uses, across key sectors such as industry and environmental monitoring, transport and logistics and manufacturing.
The Scotland 5G Centre (S5GC) and BT, have completed the installation of a dedicated 5G Mobile Private Network at S5GConnect Forth Valley – The Centre's 5G innovation hub covering Central Scotland. The hub and testbed based at Forth Valley's Alloa Campus is now officially open to the public following a launch event where businesses and members of the local community were able to participate in 5G-enabled demonstrations.
As part of the launch event, BT, together with its innovation partners Librestream and Cradlepoint, demonstrated two innovative use cases which have been developed for manufacturing, providing 'hands on' demonstrations of real-time, high-quality collaboration between geographically dispersed locations.   Using augmented reality software, remote users are able work together – reducing the environmental impact of unnecessary travel and improving the delivery rates of projects thereby reducing waste. This revolution will increase efficiency, reduce costs, and support organisation in reaching net zero.
S5GConnect Forth Valley offers advice and access to a cutting-edge 5G mobile private network providing an opportunity for SME's, start-ups and researchers to test new 5G-enabled products, services and solutions.
Working with partners at Scotland's International Environment Centre (SIEC), an initiative led by the University of Stirling funded through the Stirling and Clackmannanshire City Region Deal, and Clackmannanshire Council, the Forth Valley hub is creating a focal point for organisations in the environmental, transport, and manufacturing sectors, to learn, collaborate and innovate.
Tom Marchbanks, Business Engagement Manager, S5GConnect Forth Valley Hub said: "S5GC is excited to be launching our regional hub here in Alloa and we look forward to supporting local companies with a knowledge hub and innovation centre where companies can test, design and prototype leading edge goods and services for the rapidly emerging industrial 5G era.
"The Forth Valley Hub, will help individual organisations, run trials on the test bed infrastructure and understand the benefits of 5G in addition to receiving support as they deploy their own private networks. We also look forward to working alongside our partners here in Forth Valley, Scotland International Environment Centre to help companies understand the advantage that next generation connectivity solutions can provide in delivering leaner, cleaner and more cost-effective operations."
Alan Lees, Scotland Director for BT Enterprise: "BT are delighted to partner with the Scotland 5G Centre in launching this new 5G hub in the Forth Valley. Having confidence in your connectivity opens up incredible opportunities to transform services and outcomes in Scotland, and 5G is a key part of that.  BT were the first to launch 5G in Scotland in 2019 and we've been growing our coverage ever since. 5G arrived in Stirling in 2020 and EE continues to improve coverage in the area. Working with The Scotland 5G Centre, this hub in the Forth Valley is a showcase of what 5G can deliver, to the rest of Scotland and the UK."
John Rogers, Executive Director of Research, Innovation and Business Engagement at the University of Stirling, said: "Through Scotland's International Environment Centre, the University of Stirling is developing novel responses to the climate emergency, helping Scotland to make a just transition to becoming Net Zero by 2045.  We're pleased to partner on this exciting initiative, which will provide a sound, digital foundation to the regional-scale innovations that we are pioneering in collaboration with industry, public services and communities across the Forth Valley."
Digital twin technology set to transform training in the care sector in Scotland
Published: 27th September 2022
The Scotland 5G Centre's Innovation Challenge winner to introduce a simulated learning platform to care sector partners in Dumfries and Galloway.
Rural and remote workers get the opportunity to train in real situations to level the training playing field.
The low latency, speed and capacity of 5G will transform the learning experience offered by Care Reality.
Training in the care sector in Dumfries and Galloway is set to be transformed after a winner of the Scotland 5G Centre's first Innovation Challenge has introduced digital twin technology, which uses a real-time digital model of a care home.  Plans are also in place to roll out this revolutionary new technology right across Scotland.
The Dumfries-based company Care Reality has developed a virtual reality and simulated learning platform to improve the quality and access of clinical skills and competence training for care professionals. The company is working with the Scotland 5G Centre and supported by South of Scotland Enterprise (SOSE) to showcase the idea to Scottish Care and NHS Dumfries & Galloway Health and Social Care Partnership. The software designers, all with healthcare experience, will also listen to feedback to ensure the 'digital twin' includes interventions reflecting what users need to support them in their valuable work.
The digital twin approach allows educators to help learners test scenarios before trying them in real-life situations or environments. Care professionals can move around the home and practice interactions and procedures with avatars within the application. The scenarios are dynamic and in real-time and will relate to what participants are learning, for example, educators who are training people on catheter changes can create a scenario for completion within the simulation.
As well as practice opportunities to build confidence, the platform also provides meeting zones for learners to share experiences. Care Reality's innovative platform also creates the opportunity for hosting virtual training events.  With its large rural area and many remote towns, Dumfries and Galloway provides a potential marketplace for the new technology.
Care Reality is an SME working with the team at Scotland 5G Centre at its hub in the Crichton Centre in Dumfries to accelerate the adoption of its immersive training platform.  The low latency, speed and capacity for data available from 5G will allow the team to explore further developments and get the solution market ready.
Ross Toomer, Chief Executive of Care Reality, said:
"5G remote data-streaming will enable a new level of realism and high fidelity within a standalone VR headset regardless of the user's physical location. This brings huge potential for educators who have found it expensive and logistically very difficult to provide training to large numbers of people over a large geographical area. 
"Our new idea enables us to improve patient outcomes through better training and assessment via increased adoption of immersive technology.  Digital twins are already commonplace in engineering and manufacturing, but the health sector is now beginning to see how beneficial it is to apply the same principles to the medical world."
Andrew Todman, Business Development Manager, S5G Connect Dumfries, said:
"Data-driven technology has the ability to transform healthcare practices, and this digital twin model put forward by Care Reality is new to the sector. I am pleased to see it is being piloted in Dumfries and Galloway.   We are working alongside the team to introduce them to the right people.  We are also using our expertise at the testbed to help Care Reality better understand the potential for data streaming. 
"We hope to help the team get its products market ready to ultimately improve health and social care delivery."  

Her Majesty the Queen
Published: 9th September 2022
The Scotland 5G Centre joins the nation in mourning the death of Her Majesty the Queen.  Our thoughts are with the Royal Family during this very sad time.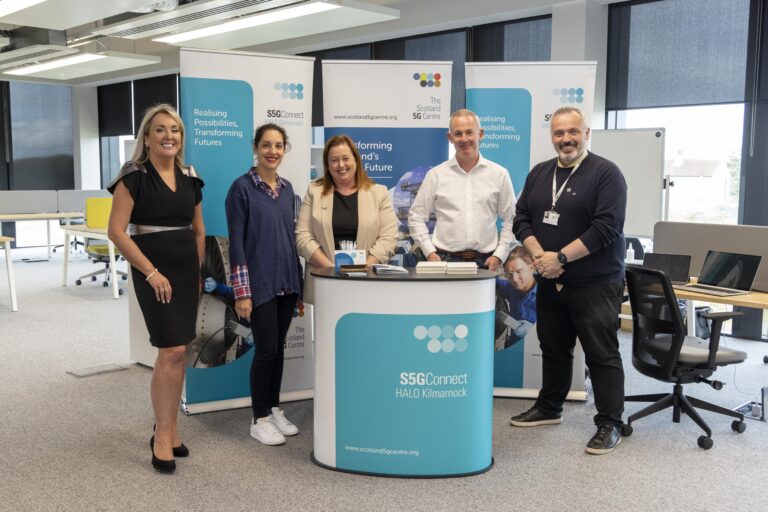 Chief Entrepreneur for Scotland Visits S5GConnect HALO Kilmarnock
Published: 7th September 2022
Mark Logan, the Scottish Government's recently appointed Chief Entrepreneur, visited S5GConnect HALO Kilmarnock, based at the HALO Enterprise and Innovation Centre in Kilmarnock to tour the world class co-working and technologically driven spaces across the campus.
The HEIC is a state-of-the-art building also home to a Barclays Eagle Lab which is supporting start-up and scale-up businesses from across Ayrshire who are building and growing specialised digital and cyber businesses.
During his tour, Mr Logan met Sharon Neely, Business Engagement Manager for S5GConnect HALO Kilmarnock, Scotland 5G Centre Operations Director Vinny Bryson and Marketing Manager Esther Francisco Ballesteros on the HALO's #RockMe Trading Floor, which is home to some of Ayrshire's most exciting businesses, and some of the shared working spaces where tenants can meet, work and network while on site at the HALO. The #RockMe Trading Floor will also be home to a Green Growth Accelerator Unit at the HEIC, backed by a green investment fund, designed to attract not only Scottish businesses but companies from outside Scotland, with the intention of creating investment opportunities both for The HALO and its partners and tenants.
With phase I of the HALO well underway with the Enterprise and Innovation Centre playing a pivotal role in the growth of Ayrshire's entrepreneurial community, plans for Phase II can now progress. Phase II of the HALO, a blueprint for the move towards greener housing in the UK, will bring 210 world class smart homes of the future to Kilmarnock. Fuelled by 100 per cent renewable energy and digital healthcare monitoring systems, the smart homes will be built at the HALO using sustainable construction materials and techniques.
The HALO provides a blueprint for a future net-zero society covering energy production, use and storage, new energy products and services and transport. ScottishPower will also utilise the HEIC to deliver staff training and host events and will support growing businesses on The HALO trading floor, establishing The HALO at the forefront of the digital Fourth Industrial Revolution.
S5GC Makes 3 Key Appointments to 5G Innovation Hubs
Published: 2nd September 2022
The Scotland 5G Centre continues to expand, appointing three Business Engagement Managers to the S5GConnect Team – the Centre's core programme deploying regionally relevant 5G innovation hubs and testbeds across Scotland.
Ahmed Sabir joins as Business Engagement Manager for S5GConnect Aberdeen, based at ONE Tech Hub. Ahmed spent most of his career delivering high-tech, high-risk projects in remote and challenging conditions before earning his MBA in 2017 and working in business consultancy, helping launch many start-up businesses in Aberdeen. He has worked, lived and studied in over 30 countries throughout his life, settling down in Aberdeen in 2014 – the longest he has lived in one place.
Ahmed says: "I am humbled by the opportunity to participate in the efforts to accelerate the adoption and deployment of private 5G networks in Scotland. 5G offers transformational improvements in efficiency and a route to digital inclusion for our remote communities in rural Scotland. I am glad to be working in my home city of Aberdeen, where I am already collaborating with a thriving tech community."
Also joining the S5GConnect team is Kirsty Scott, who joins as Business Engagement Manager for Dundee, based at Abertay's Cyber Quarters. Kirsty brings a specialist knowledge from 14 years within the computer games industry, with a background working in STEM skills as well as in-depth project management experience successfully delivering Tay Cities Deal pipeline projects.
Kirsty says: "I am thrilled to join the team and to be able to raise the profile of 5G locally from Dundee. The 5G era is here and it's a key enabler for a digital evolution where we are embarking on a bright future characterised by Scottish innovation. I am excited to be part of that journey as a Dundonian in developing the next modern industrial age for the people of the region. I want the Dundee Hub to be the centre of advanced connectivity to showcase how 'The City of Discovery's potential for transformation can be truly endless."
At the forefront of our S5GConnect HALO Kilmarnock hub based at the HALO Urban Regeneration Centre, is Sharon Neely who joins as Business Engagement Manager.
Prior to joining the team, Sharon worked in the financial sector at Barclays, leading teams in Ayrshire and Dumfries with a focus on rebuilding local economies and engaging with the community.
Sharon says: "I am so excited to be joining this amazing team.  I look forward to showcasing my innovation hub and demonstrating how 5G technology can help businesses and communities grow and flourish. I am passionate about working in the community and making a difference through digital and technology – I believe that working at The Scotland 5G Centre will provide me with the tools, technology and education to make this vision a reality."
Paul Coffey, CEO of the Scotland 5G Centre added: "The expansion of our core S5GConnect team is another key step in our commitment to deliver a series of 5G-enabled innovation hubs across Scotland, creating world-leading spaces for businesses to connect, share knowledge and develop innovative solutions. Our Business Engagement Managers bring a wealth of technology and commercial expertise, and this will be a huge asset in helping SMEs on their journey to accelerate the potential of 5G and transforming local communities and economies."
The Centre has also expanded its projects team as Arthur Smith is appointed as Programme Director and Alan Lillie joins as Project Coordinator.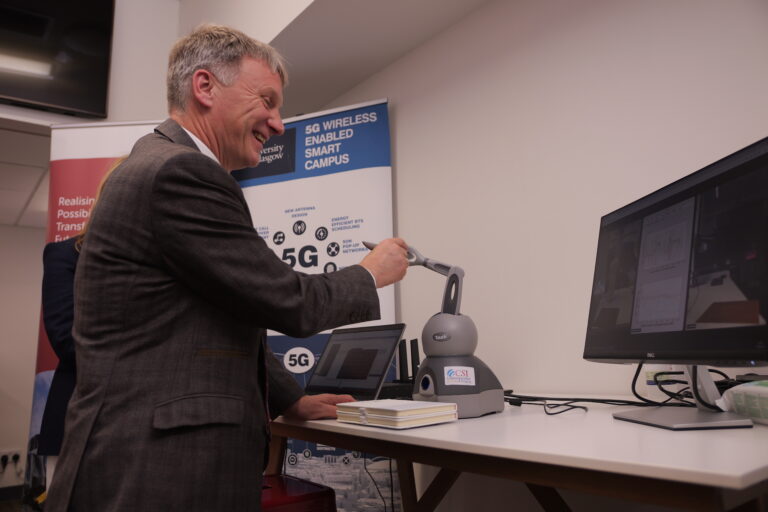 Minister Launches New 5G Testbed in Aberdeen
Published: 1st September 2022
The Scotland 5G Centre and Opportunity North East (ONE) collaborate to drive the adoption of 5G and the growth of Scotland's economy.
The new 5G Testbed is live, accessible and open to the market to support the creation and acceleration of the application of new 5G-enabled uses, across key sectors such as energy, utilities, ports and logistics.
The S5GConnect Aberdeen testbed, based at ONE Tech Hub, the home of digital tech in North East Scotland, is now live, accessible and open to the market. The new facility and testbed will allow businesses of all sizes to test and develop new 5G applications and accelerate new digital services and operations in the region.
The Scotland 5G Centre announced the deployment of a new 5G Testbed in Aberdeen in March, in partnership with ONE, to unlock the transformational benefits of 5G for Scottish businesses, public sector organisations and Scottish communities. The partnership is supported by Vodafone and it's partner, global 5G technology leader, Ericsson with the Mobile Private Network (MPN) being deployed in just 8 weeks.
As part of the launch in Aberdeen, Scottish Government's Minister for Business, Trade, Tourism and Enterprise, Ivan McKee, visited the site and experienced 5G capability first-hand. He observed a remote training demonstration of an offshore windfarm using a robotic arm. This 5G-enabled teleoperation demonstrates how skills can be the delivered remotely over wireless links offering new opportunities and capabilities to the energy industry.
This real-time demonstration is possible by using the low latency and high reliability of a 5G Mobile Private Network while the advantage of installing an MPN on-site offers more control on how the network is customised and configured. The robotic arm was controlled by a remote operator, who could see, feel and experience the environment during the inspection with the help of visual and haptic feedback.
Vodafone demonstrated a fault detection training programme and Ivan McKee was introduced to Vodafone's Mixed Reality solution. The technology allows the user to see the physical world alongside digital overlays. These could come in the form of instructions, videos or 3-D objects like a car. The technology will be used in training to improve the learning of complex processes and the speed of completing repetitive tasks, as well as for specialists to provide remote support to on-site engineers.
The 5G hub is open to local businesses who are interested in the opportunities 5G provides. Visitors can access support from the S5GConnect team and see first-hand the benefits of the live testbed. The hub will benefit businesses in the area that are planning to integrate advanced connectivity to improve their business performance.
Business Minister Ivan McKee said: "Transformative 5G technology has the potential to revitalise businesses across the country and I congratulate those behind these innovative demonstrations.
"The new Aberdeen 5G Innovation Hub will help boost the economy and encourage entrepreneurship in the North East, helping small and medium-sized enterprises with the skills they need to understand how 5G can benefit their business.
"Collaboration between innovation hubs like this and industry can transform businesses and create opportunities for increased productivity, cost savings and sustainability. I encourage the energy sector – locally and further afield – to take advantage of the technology and expertise on offer to help innovate and grow your business."
Mark Hanson, Non-Executive Director of The Scotland 5G Centre said: "We're excited to be launching the S5GConnect Hub in Aberdeen – providing a knowledge centre and test bed infrastructure for the surrounding community.
"5G technology is open for use not just by mobile network operators, but it allows businesses, government bodies and other organizations the opportunity to set up their own private 5G network – enabling secure, interference free, high speed, low latency wireless communications. It's one of the key technologies on which Scotland's Future Digital Economy will be built.
"The Aberdeen Hub, will help individual organisations understand the impact 5G can have, run trials on the test bed infrastructure and receive support as they deploy their own private networks. We also look forward to working alongside our partners here in Aberdeen, Opportunity North East, Aberdeen City Council, the Innovation Centres including CENSIS and the DATALAB and other agencies where we can work closely together to help deliver major transformation projects for the area."
Karen O'Hanlon, Director Digital Tech Opportunity North East said: "ONE Tech Hub is the anchor point for the region's fast-growing tech community and home to a growing number of leading partner organisations connecting digital tech businesses with expertise and specialist technology to help them go further faster.
"The new Scotland 5G centre partnership and 5G testbed with onsite support will give businesses and tech developers the opportunity to work with expert advisors to demonstrate, develop and apply 5G connectivity in new applications and be part of the transformative 5G technology ecosystem to help accelerate growth."
Kim Moran-Hogg, Head of Scotland & Northern Ireland, Vodafone Business, said: "We're delighted to be working with the Scotland 5G Centre to make sure Scottish businesses and public bodies have access to research centres powered by state-of-the-art private networks.
"It's vital that leading-edge technologies are available right across the UK and this centre of excellence in Aberdeen can be a showcase for Scotland and the whole of the UK."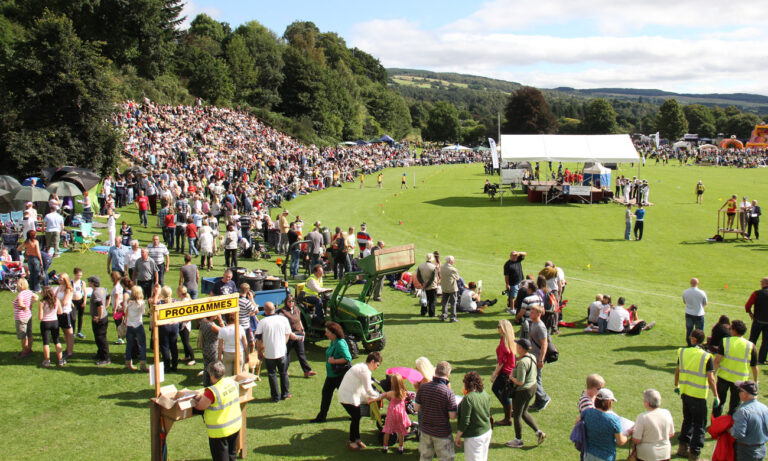 5G Enabled Broadcast at Pitlochry Highland Games
Published: 11th August 2022
Live link from the games to international broadcasting conference on Saturday 10 September.
An unassuming box with an aerial, situated in a corner of the balcony at the pavilion in Pitlochry's recreation ground, will put the town's highland games at the forefront of a project trialling future broadcast production in locations even more remote using 5G and involving a number of world leading broadcasters, including the BBC and BT Sport.
While the games are underway action will be broadcast live to the International Broadcasting Conference (IBC) taking place in Amsterdam with an estimated audience of 40,000. The IBC sits at the crossroads of the media, entertainment and technology industries, providing an informative and engaging experience. The 5G private network has been developed at the University of Strathclyde.
"Pitlochry will help us show that 5G remote production can happen in many even more remote places and in the middle of anywhere.  We are trialling in four areas of the world, in Ireland, in Kenya, New Zealand and in Pitlochry," explained Mark Smith, the head of IBC's Accelerator Media Innovation Programme. "It provides the perfect opportunity to focus on a private 5G network."
As enthusiastic young dancers perform to pipe tunes and cabers whistle though the air, Pitlochry is providing a dedicated bandwidth with no interference or capacity issues affecting the quality of transmission even in big crowds, Mr Smith added.
The private 5G remote network has been developed by the University of Strathclyde working alongside the Scotland 5G Centre.
Professor Bob Stewart, from the University of Strathclyde and Director of the Strathclyde Software Defined Radio team, said: "This trial will show how truly portable our 5G private standalone network is and how we can 'popup' private networks."
The trial was welcomed by Games Chieftain Charles Butter, who said: "This is a truly Scottish endeavour and the choice of Pitlochry Highland Games as an event to help in the future development of broadcasting is a testament to the high regard in which Pitlochry Highland Games are held, not just from the point of sporting excellence but also our wonderful location."
This year also marks 170th anniversary of the first Pitlochry Highland Games and one highlight will be the playing for the first time of a new pipe tune composed specifically for Pitlochry.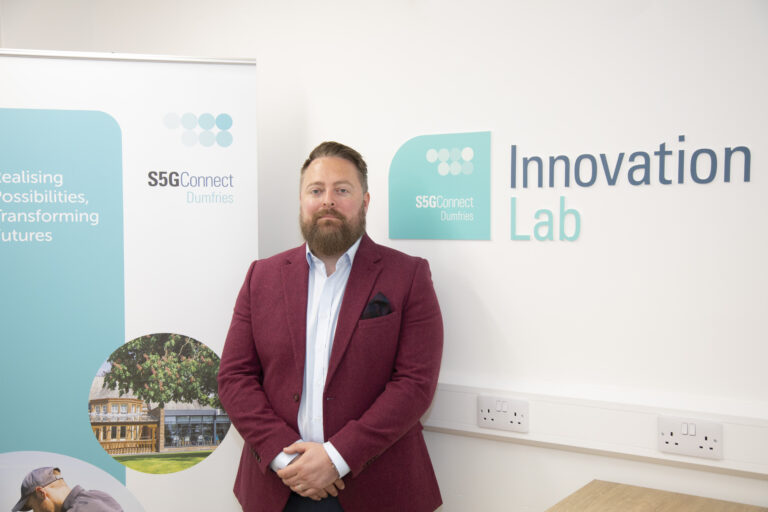 S5GC Innovation Challenge Winner Spotlight – Care Reality
Published: 9th August 2022
"Our objective is to accelerate the potential for the South of Scotland to be an innovation hub, close the growing demand gap in social care training and assessment, improve retention and enhance skills which ultimately improve the care people receive when they need it, now and for the future. "
Our inaugural innovation challenge focusing on 'Shaping Digital Health & Social Care' is now well underway at S5GConnect Dumfries, our rural hub based on the Crichton Campus.
Care Reality, one of the three challenge winners, are building the world's first virtual reality training platform for adult social care, providing essential clinical skills training using the end-user virtual reality platform.
Aiming to transform learning within adult social care, utilising 5G and bringing together immersive technological expertise, Care Reality's platform will improve the user experience through 5G remote data-streaming, enabling a new level of realism and high fidelity within a standalone VR headset regardless of the physical location of the user.
We spoke to Ross Toomer, Founder of Care Reality about applying to the Innovation Challenge and shaping digital healthcare.
1. Why are you interested in shaping digital health and care?
To put it simply, we have a truly ambitious desire to shape and improve access to knowledge and skills using immersive technology.  There is a need to redefine the way in which immersive technology can support and transform learning and skills across health and social care.
We are a team of like-minded, tech savvy, passionate people who all have a strong moral commitment to make a change.  In fact, some of us are carers to our own family, one of us previously worked in the NHS, a member of our team has immediate family in a frontline health and social care role looking after people who need it most and one of us committed years and years of painstaking research to become a leading authority and attained a PhD on immersive technology for therapeutic interventions.
We are not just another software development company, we are Care Reality.  The name says it all.
2. What's the company's greatest achievement and why?
We have two.
First, finding and convincing this hugely talented team to come and join a start-up is truly humbling. The fact they come to work every day with so much passion and innovation makes everything possible.
Secondly, In 2021, and during the second wave of the pandemic, we applied for the Scottish Government's CivTech 6 Accelerator Programme. After a competitive process we were successful and accepted onto the programme.  Six months later we turned an idea into a product and with the support and guidance of the CivTech team, our challenge sponsors and each other, we successfully launched our business at the CivTech Demo Day in February of this year.
We received supporting messages from companies as far away as South America, most importantly we received feedback from those people working in the health and social care sector thanking us for putting them centre stage, via proxy, within such a large tech arena typically focused on everything but care. From an idea to launching a business at Demo Day and now really pushing the boundaries of 5G and immersive learning, this journey has been our greatest achievement to date – however, we guarantee we will have many more to celebrate!
3. As a winner, how will the innovation challenge support you in reaching your business goals?
We will be able to enhance our software development, explore and better understand data streaming – giving us significant experience, and a knowledge advantage for when 5G is widely rolled out.
As a winner, this challenge will help us exceed our technological goals – with access to The Scotland 5G Centre, Scottish Care and NHS Dumfries & Galloway Health and Social Care Partnership, we are now speaking with the right people, showcasing our idea but also carefully listening so we capture the voice of the sector and design our interventions in a manner that truly reflects users needs.
Ultimately, this innovation challenge enables us improve patient outcomes through better training and assessment via increased adoption of immersive technology. Making this happen seamlessly, without running out of storage space, in an untethered wearable headsets is not easy, but by utilising 5G and data streaming we can make immersive mobile VR a reality.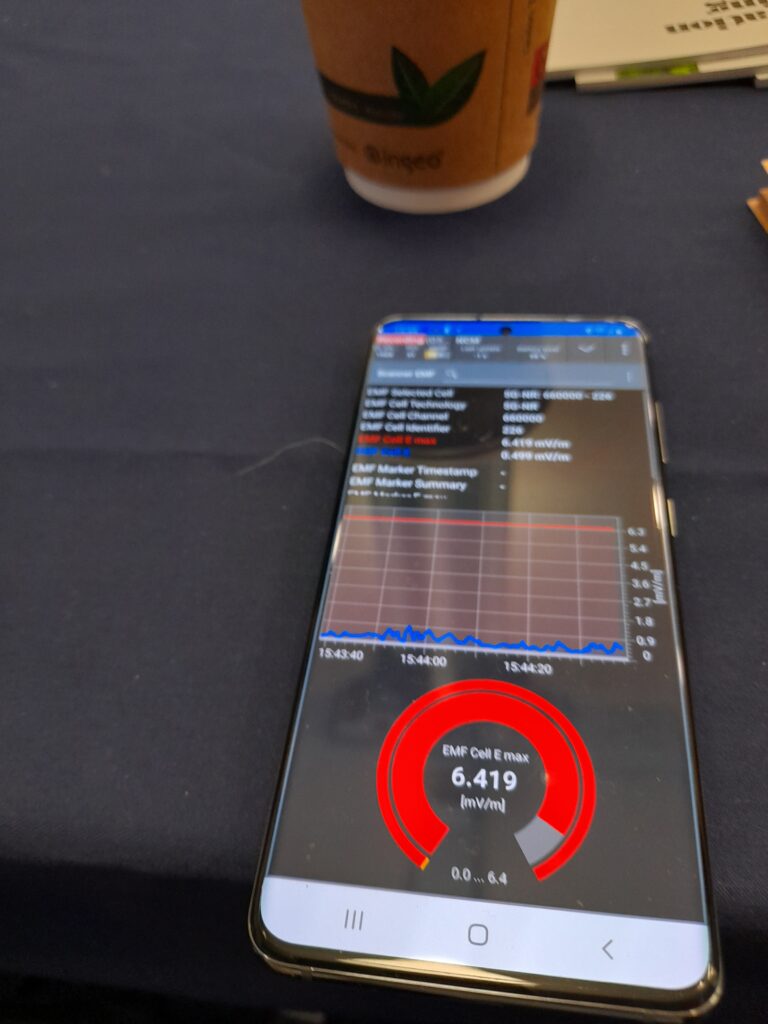 How 5G can become a reality
Published: 9th August 2022
Listen to Tbtech's podcast with guest speaker Lara Moloney, Head of S5GConnect at The Scotland 5G Centre here.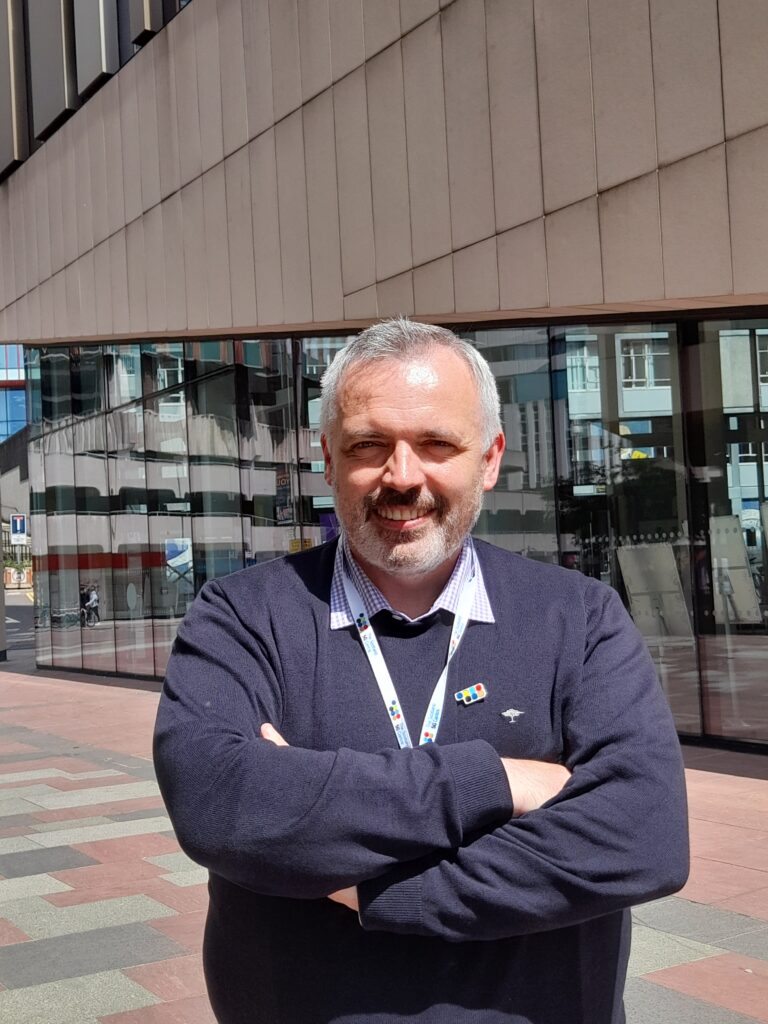 Getting to Know – Vinny Bryson, S5GC Operations Director
Published: 5th August 2022
The Scotland 5G Centre's new Operations Director, Vinny Bryson, spoke to Holyrood Connect about supporting the Scottish national team, his early life in the Navy, and technology.  
What's your earliest memory?
It is definitely Scotland exiting the 1982 World Cup in Spain.  The squad included some of our most famous football names including Alan Hansen, Graeme Souness and Kenny Dalglish.  We needed to win against the Soviet team and the result was a 2-2 draw meaning Scotland, for the third successive World Cup, exited on goal difference.  Even though I was only 5 years old, I was aware of the enormity of the situation and as they say, 'some scars never heal'.  The experience did set me up for supporting Scotland throughout many more heroic failures.  It also literally kick-started a love of the game.  I took up coaching women's football and one of my most treasured memories was coaching Queen's Park Women to a senior league title in 2007.   I have met some amazing young women during my coaching years and am delighted to see the women's professional game now going from strength to strength.
What were you like at school?
I would say I was enthusiastic about learning – particularly science, history and sport, but I was unspectacular.  I was interested but lazy and I definitely conformed to the teenager stereotype.   One interesting part of my education was out of the classroom. My father was the janitor at Notre Dame School in Dowanhill, Glasgow.   My family lived near the school as a grace and favour part of his job. My 13 year old self loved the school library.  It was originally an observatory and has a fantastic, elevated position with the most fantastic views of the city.   I loved reading and was drawn to astronomy and science.  I went onto study politics at the university of the West of Scotland, which was good as it also made me pick up a newspaper!
Who would be your dream dinner date?
It would have to be with my wife at a beachfront bar in Hawaii.   We went on our honeymoon and our hotel backed onto Waikiki Beach.   It is a stunning place, a famous surf beach with huge sunsets.   It was over 15 years ago and since then we have had three children and so much has happened.   Both of my sons are autistic. They are fantastic young men, but as you can imagine have their own set of demands and they need lots of time and dedication.  We both have busy careers also and have so many responsibilities.  So, a little trip alone to the beauty of Hawaii would be a welcome break.
What's your greatest fear?
I worry constantly that I am not being a good father to my three children.   It is one area of life you can't particularly train for and it's such an important role and crucial that you need to succeed.  You go from not being responsible for another human being, other than yourself, to being a parent.  You have to adapt and respond very quickly.   I want my kids to know I tried my best and did what I could for them.
What's the worst thing that anyone's ever said to you?
After University I was keen to travel and wear a uniform.  I channelled all my love of adventure novels and joined the Navy.   I did manage to see many countries – 17 in one year.  However, I was also immersed in the Navy military hierarchy structure where you were aware of your status and class.   It was at this time I was told 'I forgot you were here'.  The feeling of being insignificant is not a great place to be.   I am glad I am now in a working environment which is about collaboration and communication.  If you spend so much time at work you want to feel you are in a safe space, valued and not forgotten.
What's your most treasured possession?
Now this is an easy one to answer.  I won't say my family as they are not possessions, but second to them it would have to be my Batman Computing Chair by Secret Lab. It is a lockdown purchase and it's a custom built gaming chair and perfect for working from home.   It is black, obviously, decorated with large batman logos.  It is ridiculously comfortable with back and neck supports.   It's very popular and my wife is now ordering her own in pink and without the comic book hero design.
What's your guiltiest pleasure?
Another easy one and without hesitation it has to be 'really bad' action movies.   My absolute favourite is Days of Thunder.  It's just the best racing film ever and Tom Cruise and Robert Duvall play great roles.   I have it in all formats from VHS to digital with laser disc and Blu-ray in there too.
If you could go back in time, where would you go?
Although I am a lover of history I actually wouldn't go back very far.  I would choose the Britpop era of the 1990's.   I loved Oasis, Blur and indie music.  I haven't been to many concerts, but I remember Oasis at Loch Lomond.  It would also mean I could enjoy Arnie Schwarzenegger at his zenith in the Terminator movies.   What's not to like?
What's the last book you read?
It would have to be about technology, and it's called After Steve: How Apple Became a Trillion-Dollar Company and Lost its Soul.    I am a consumer of Apple products, and I am interested in the development and role of technology.   Apple is the same age as me.  It started 45 years ago.   As a company it single-handedly made consumer electronics more user friendly and stylish.   Steve Jobs was a talisman and a creator and the golden thread that ran through the company.  The book looks at the styles of Tim Cook the new CEO and Johny Ives, Head of Design. The former has masterminded a bull run of success. Whilst Johny Ives had moments of brilliance but lived the high life and eventually burnt out. Apple is making huge amounts of money, but the book does question the culture that exists there now.   It's a fascinating read.
Why is technology such an interesting subject?
I think technology and sports are similar in terms of the benefits they can provide.    I think they both have the potential to improve peoples' lives.  Sport is a great leveller and teaches teamwork and gives people opportunities to develop.    Digital technology allows people to communicate and stay connected.  In Scotland that can help if you live in a rural community or if you need healthcare support at home via an app or telecare system.
Technology also gives you access to currency as politicians recognise its ability to improve business competitiveness and boost the economy.   It definitely opens doors to the key ministers
And then we have a small section on preferences:
Salt and vinegar or salt and sauce –  Salt & Vinegar
Cats or dogs –  Neither (dogs at a push)
Pub or wine bar – Pub
Early bird or night owl –  Early bird
Continental or Full English – Continental
Coffee or tea – Coffee
Fame or fortune – Fortune
Book or film – Book
Night in or night out – Out
Couch or gym – Gym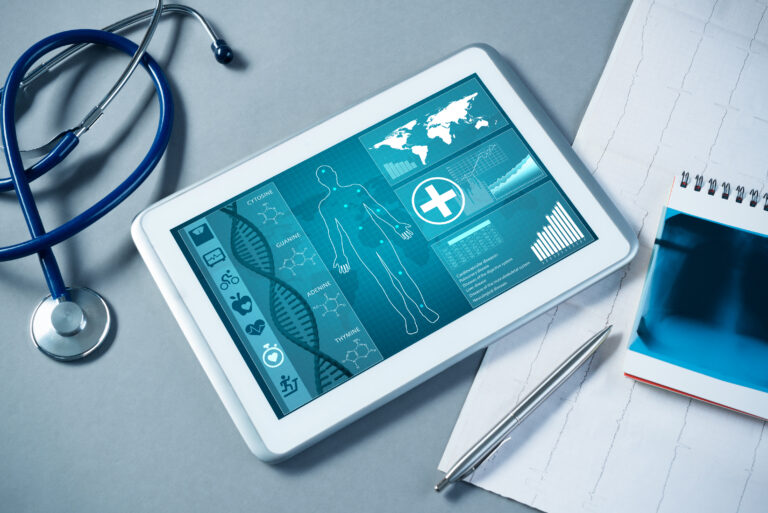 How digital technology is boosting healthcare
Published: 2nd August 2022
First published by The Scotsman
By Arjun Pasenar,  Founder, Chief Executive Officer of DDM Health
YouTube, Zoom and Instagram have boosted the popularity of virtual exercise classes and the Couch to 5k mobile app has hit five million downloads since the pandemic started with no signs of slowing down.  More people are achieving improvements to their physical and mental health through technology.
But the social determinants of health – particularly income, ethnicity and neighbourhood – make the biggest difference to accessing health services, and engaging with them. Digital therapeutics provide a way of democratising access to health services. The Scottish Government's Digital Health and Care Strategy recognises the need to improve care and wellbeing in Scotland by making best use of digital technologies in the design and delivery of services.
With enormous advances in digital health innovation, we are quickly moving into an age where software platforms will be treating millions of patients. Digital transformation in healthcare has accelerated the use of technologies like mobile applications, artificial intelligence and virtual reality in order to solve major problems that exist in healthcare delivery.
Unfortunately, non-communicable diseases like obesity and type 2 diabetes cause 8 in 10 deaths globally.  In Scotland, non-communicable diseases such as cancer, heart disease, stroke, diabetes and lung disease are responsible for almost 39,000 deaths every year — more than two-thirds of all deaths.
As founding Chief Executive Officer of DDM Health, we have led the development of digital treatments that cater for a diverse and varied community – and deliver our services in over 11 native languages. Our personalised chronic health condition management app is NHS Certified and the highest Orcha rated app ever.
The idea for the service came from a real-life experience of what a technological intervention can do.   I supported my grandfather after his diagnosis with type 2 diabetes.  As a graduate studying an undergraduate Masters in Computer Science and Artificial Intelligence, I used this knowledge to set up a website to support a global community for people with diabetes.  This led to twenty years working with big data and AI to create evidenced-based precision digital health solutions.
DDM Health is one of the winners of the Scotland 5G Centre's inaugural innovation challenge focusing on 'Shaping Digital Health and Social Care'.   We are working with the S5GConnect team at the rural hub in Dumfries to test and develop new applications using 5G capability. The challenge is to support patients in an area with challenges in terms of distances to hospital and health facilities and an age population.   We are looking at regionally relevant solutions to digital connectivity that will make a difference to the community.
The Innovation Challenge will enable us to understand the needs of patients and providers in Dumfries and Galloway so that we can develop a solution with our local partners.   We are looking specifically at using digital technologies to support families at home, through the use of innovative digital technologies, remote monitoring and apps to help create positive behavioural change.
Traditional healthcare cannot respond to current demands and needs which presents an opportunity for digital solutions to provide much needed support. We are looking to improve the sophistication of our in-app experiences using the capability provided by 5G and the technical expertise available at the S5GConnect Hub to provide new experiences to users. We hope this can further help them manage their condition independently at home. Proactive AI can encourage behaviour and medication management and also send messages of support, which is vital to combat loneliness and isolation
With so much innovation in this field, we can offer more people whatever their age, stage, culture and background a world where technology can help us to lead healthier and happier lives.
Arjun Panesar is the Founder, Chief Executive Officer of DDM Health and a winner of The Scotland 5G Centre's Innovation Challenge focusing on 'Shaping Digital Health and Social Care'.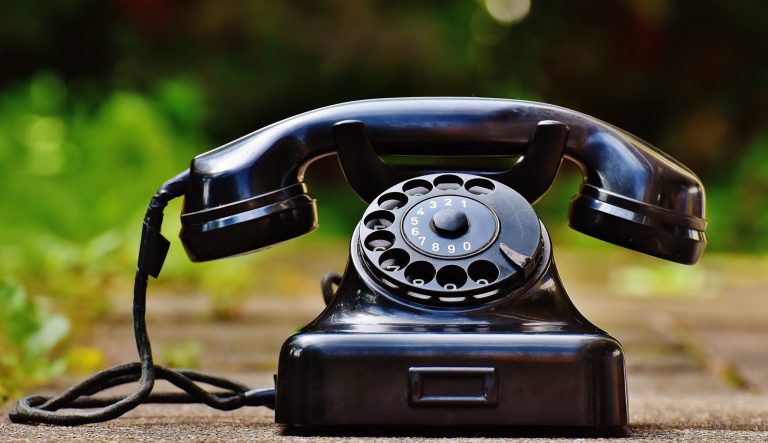 Moving landline phones to digital technology: what you need to know
Published: 28th July 2022
The technology that we currently use to make landline phone calls is being upgraded over the next few years. Here's what this means for you as a customer.
The infrastructure used to deliver landline calls is old and needs to be replaced
Landline phone calls have traditionally been delivered over a network known as the public switched telephone network (PSTN). This network is old, and becoming harder and more expensive to maintain, so it needs to be replaced.
Replacing the PSTN now will ensure that we continue to have reliable home phone services available.
This is not happening only in the UK. These changes are taking place all over the world, with many countries having now completed them.
BT has taken the decision to retire its PSTN by December 2025 and this means other providers that use BT's network must follow the same timescale. Other companies with their own networks such as Virgin Media plan to follow a similar timescale.
In addition, telecoms providers are also investing in new systems and networks – for example, by upgrading old copper-based broadband lines to full fibre. They will need to switch customers away from the old PSTN at the same time as upgrading their technology.
This means that in the future, landline calls will be delivered over digital technology, called Voice over Internet Protocol (VoIP). You might also see this referred to as 'digital phone' or 'digital voice'.
Customers who want to keep a landline phone will need to move to a VoIP service
These changes have already started, but you don't need to do anything until your provider contacts you to tell you your service is changing. Alternatively, if you want to move to a VoIP service now, you can do so by upgrading to a new phone and broadband package.
Once you have moved to a VoIP service, your landline phone will work in much the same way as it always has. However, as we explain below, there will be some differences.
Making phone calls in a power cut
Unlike some traditional corded analogue phones, a digital phone will only work in a power cut if it has a battery back-up.
If you are dependent on your landline phone – for example, if you don't have a mobile phone or don't have mobile signal at your home – your provider must offer you a solution to make sure you can contact the emergency services when a power cut occurs. For example, a mobile phone (if you have signal), or a battery back-up unit for your landline phone.
This solution should be provided free of charge to people who are dependent on their landline. If you are not eligible for a free resilience solution, you may be able to purchase one from your provider or another retailer – talk to your provider about options.
Your provider should arrange to supply the equipment needed to keep you connected
If you need any new equipment to make your landline phone work – for example, a new router, new telephone handset or if you need a new broadband service installed, your provider will arrange this.
Make sure your provider knows about your needs and circumstances
When the time comes for your landline phone to be upgraded, you should talk to your provider about your circumstances and how the service will work for you. For example, if you need extra help to change your service over, if you are dependent on your landline phone to make calls in a power cut, or if you use equipment connected to your phone line such as a telecare or burglar alarm.
You may need to change your care alarm, security alarm or fax machine
Certain devices people use at home, such as care alarms, security alarms and fax machines may also be connected you your landline. If you have a device like this, it might need to be replaced or reconfigured to continue working once you move to a VoIP service. Before you are migrated to a VoIP service, tell your provider about any of these devices that you rely on.
When you migrate to a VoIP service, your provider should tell you what you need to do if you have one of these devices. This will include informing your alarm provider so they can make the necessary changes or tell you if your alarm will work with your new VoIP service.
If you are buying a new alarm or device, you should ask the manufacturer if it is compatible with VoIP services.
Your VoIP service will be provided over a broadband connection
If you already have a broadband connection, for example to connect to the Internet, then the VoIP service will use this.
If you don't have a broadband connection, your provider will supply one specifically to support the VoIP service, but you shouldn't pay extra for your VoIP service if you don't take up a broadband service.
This change will affect small businesses too
Just like residential customers, small businesses that want to continue using their landlines will eventually have to move to VoIP services.
You might also have equipment such as card payment machines, alarms, and monitoring equipment connected to your landline that might not work once you have migrated to a VoIP service.
Speak to your landline provider to establish what other equipment your business uses that relies on the PSTN. You should also speak to the current supplier of this equipment for advice on options for replacing or reconfiguring it.
For any other queries, including if you have a more complex set-up at your business, please speak to your landline provider for specific advice.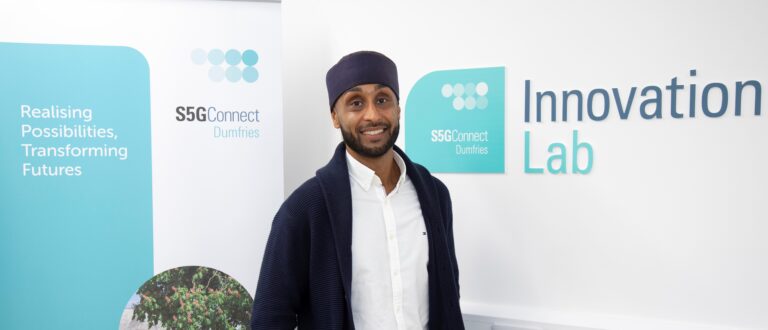 S5GC Innovation Challenge Winner Spotlight – DDM Health
Published: 21st July 2022
"Our mission is to democratise access to digital health services so that everybody, regardless of race, income, or geographical location is able to realise the benefits of digital technologies." – Arjun Panesar, Chief Executive Officer at DDM Health
Last month DDM Health were announced as one of three winners of The Scotland 5G Centre's inaugural innovation challenge focusing on 'Shaping Digital Health & Social Care'.
DDM provides personalised chronic health condition management through Gro Health, an NHS certified app which provides personalised treatment pathways and democratises access to health self-management tools including home monitoring, preventative care and chronic disease management, elective care support for patients waiting for treatment and supports post-treatment rehabilitation.
DDM has 10 years' experience, looking after people across the UK, Germany and Canada; and a successful track-record in the scaling implementation of their solutions; their technology is one of the most rigorously-tested and proven digital apps in the marketplace and is Orcha's highest rated app (96%).
Aiming to reach 1.5 million people with their digital healthcare solutions by 2026, the innovation challenge will enable DDM to understand the needs of patients and providers in Dumfries & Galloway.
We spoke to Arjun Panesar, Chief Executive Officer at DDM Health about the company's success and what it means to win the challenge.
Why are you interested in shaping digital health and social care?
My grandfather Anupam was diagnosed with type 2 diabetes after suffering a quadruple heart bypass. Not knowing how to manage his lifestyle in a way that suited his cultural and social expectations, Anupam turned to me for guidance on what to eat. It was at this point I founded a global community for people with diabetes. Fast forward to 2022, I have two decades' experience in big data and AI and lead the development of DDM's evidence-based precision digital health solutions that harness the power of AI to provide precision medicine to patients, health services, and governments across the globe.
What's the best thing about what you do?
We make services that empower people and have the potential to change lives. There is nothing more rewarding than seeing our services being used and achieving their intended goal.  My favourite case study to date is David Williams, who was referred to our service by his doctor, and placed his 23-year diagnosis of type 2 diabetes into remission in 12 weeks through the education, support and monitoring made available through using our platform.
What's the company's greatest achievement?
DDM have published 15 peer-reviewed, published papers on the impact of our platforms which is a tremendous achievement. On top of this, our health apps Gro Health and Low Carb Program have both been reviewed by Orcha and rated the highest (96%) compared to over 3,500 apps they have reviewed.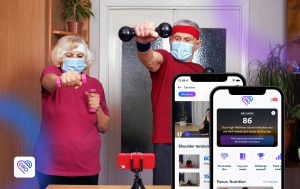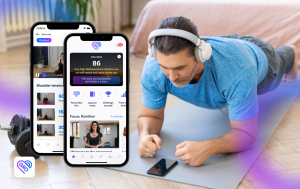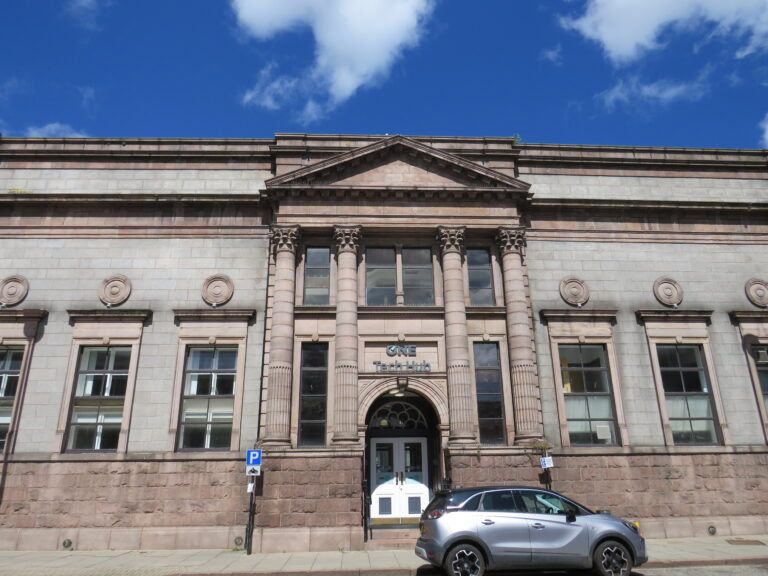 Scotland 5G Centre & Vodafone Rollout 2 New MPN's
Published: 12th July 2022
Two new 5G Mobile Private Network (MPN) deployments in Aberdeen and Kilmarnock will support the digitisation and diversification of local economies
Vodafone designed and installed the MPNs in eight weeks
5G-powered testbed environments will support the creation and acceleration of new 5G services in areas such as manufacturing, healthcare, and energy
The Scotland 5G Centre and Vodafone have delivered two new 5G Mobile Private Networks (MPNs) to develop new use cases and accelerate the adoption of 5G technology across industry in Scotland.
The 5G MPNs are in The Scotland 5G Centre's Aberdeen and HALO Kilmarnock innovation hubs. The hubs will help organisations to deliver new applications and services using  Vodafone 5G connectivity. Specialist staff will help companies to develop, prototype and test real-world, 5G-powered applications and use cases.
By identifying issues faced by local businesses, the partnership will help spur growth in the regions and build use cases that go beyond the 'proof of concept' stage. The insights from local businesses will help The Scotland 5G Centre to identify any gaps in skills or infrastructure to support the adoption of emerging technologies.
From commission to switch on, the two 5G MPNs were delivered by Vodafone in less than eight weeks.
In Aberdeen, the 5G MPN will power the ONE Tech Hub initiative, a co-working space for entrepreneurs, established businesses, and regional start-ups to drive digitisation and economic diversification in North East Scotland. A particular area of focus will be how new connectivity and digital services can support the energy, renewables and utilities sector, a major employer in the area.
At the Kilmarnock site, the 5G MPN will power HALO Enterprise and Innovation Centre, a regeneration initiative to revitalise Urban Cities and Towns in a collaboration of education and enterprise.
Kim Moran-Hogg, Regional Director for Vodafone UK, said: "We are working with The Scotland 5G Centre to help open up new opportunities for Scottish businesses. By combining our connectivity with local knowledge of the businesses and industries, we can help the Scottish economy to benefit from a 5G connected world."
"This partnership is about understanding the problems that local businesses face, and developing cutting edge solutions together. 5G will power the future of Scotland's economy, and help us build an inclusive and sustainable digital society."
Lara Moloney, Head of the S5GConnect Programme at The Scotland 5G Centre commented "We are extremely excited to work with Vodafone at these two additional locations as part of our network of Innovation hubs across Scotland. Working together to provide 5G access, market education and insight for digital infrastructure and it's potential ROI for industry offers a competitive advantage to organisations that utilise these unique and high quality services. We are looking forward to supporting ambitious businesses on their 5G journey as we continue to evolve the 5G ecosystem for the benefit of Scottish citizens and the economy."
The Scotland 5G Centre Launches S5GConnect Forth Valley 5G Testbed
Published: 29th September 2022
The Scotland 5G Centre and BT are transforming the future of the workspace and delivering 'greener' options for Scottish industry The Scotland 5G Centre launch 5G hub and testbed at...