S5GC & COP-26 – 3D Video-conferencing demos, remote-controlled robotics & AI
Last week The Scotland 5G Centre team, along-side Holoxica and the University of Glasgow's Communication, Sensing and Imaging group tested out some new and immersive 5G-enabled technology.
Showcased at the Sustainable Solutions event held at the University of Glasgow on Tuesday 9th November, we experimented using the University's pioneering robotic arm. This tele-operational, 5G robotic arm uses a haptic feedback controller that allows you to feel senses of touch, motion and pressure. Set up to enable remote work in real time, regardless of the user's location, the robotic arm could potentially be used across the manufacturing, healthcare and education sectors with further use in driving lessons and testing being researched.
Students, researchers, lecturers and COP-26 delegates attended the exhibit, trialling out the equipment and imagining how the tech could be used in their industries and workplaces.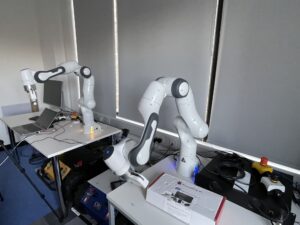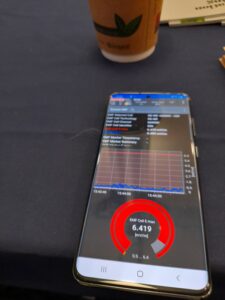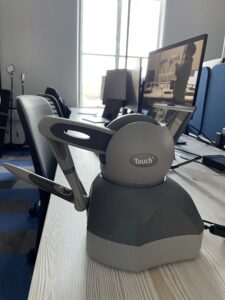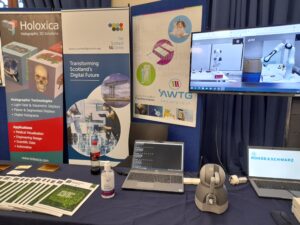 Enabling partners to test and develop ideas and use cases is how the Scotland 5G Centre is accelerating the adoption of digital technology in Scotland. Paul Coffey, Chief Executive of The Scotland 5G Centre, explains:
"The test bed built at the University of Glasgow is creating a major step change in ideas and adoption of 5G technology.  The ability for students to be able to take part in complex work from another country is exciting and beneficial for the learner and the academic partner. Giving remote access to world leading facilities to a larger number of people worldwide is hugely beneficial.
"We are able to create multiple use cases which generates an ecosystem for 5G and leads to further applications across manufacturing, healthcare and education sectors.  The market for remote solutions in the robotic market alone is predicted to be worth 16.8 million dollars by 2023, the potential for use of 5G across sectors is of enormous economic benefit."
On Thursday 11th November, as part of COP26, Holoxica and the CSI group at the University of  Glasgow, hosted a 5G to 5G holographic 3D video conferencing demonstration from our S5GConnect Dumfries hub, based on the Crichton Campus in Dumfries to the 5G testbed at the University of Glasgow.
Perfect for a wide variety of use cases, the holographic equipment can be used for meetings that would ordinarily require travel and in the healthcare industry in 3D Telemedicine.
The experience included 2-way 3D Videoconferencing between Dumfries and Glasgow, using Microsoft Azure Kinect 3D depth cameras, the quick, low latency 5G network from S5G Connect Dumfries and the University of Glasgow's 5G testbed with the help of Nokia, and 3D Looking Glass Light Field displays, all running via Holoxica's 3D Telepresence system.
Also on the 3D call, was 'Peppa' the University of Glasgow's AI robot, which is being programmed for use in the tourism industry – Peppa allows for tour guides and operators to work remotely using the AI robot to guide visitors.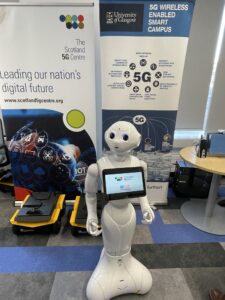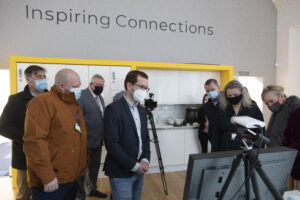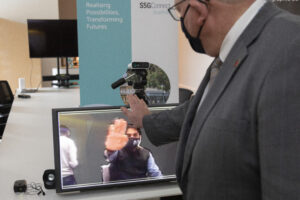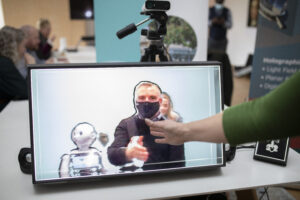 Dr Muhammad Ali Imran, Professor of Communications Systems – Head of the Communication, Sensing and Imaging group at the James Watt School of Engineering said: "5G is a key technology to enable more realistic virtual tele-presence that can move us away from conventional two-dimensional screens replacing it with "holograms". This will be a more convincing alternative to physical travel to allow people to interact and engage at distance while significantly reducing their carbon footprint by avoiding long-haul travel."