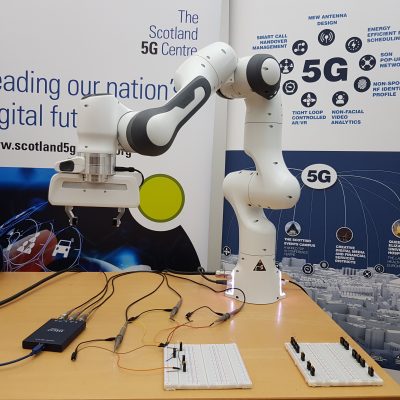 A team of 5G researchers under the leadership of Prof Muhammad Imran at Communication, Sensing and Imaging (CSI) group, University of Glasgow has been actively engaged in transferring the knowledge from the university level down to primary and secondary schools.
They are inspiring the future generations of Science, Technology, Engineering and Mathematics (STEM) students through a series of online workshops that introduce the primary and secondary pupils about 5G communications and showcase the applications of 5G through a number of demonstrations that are developed in-house as part of The Scotland 5G Centre's urban testbed.
Key contributions from experts such as Dr Sajjad Hussain, Dr Qammer Abbasi, Dr Yusuf Sambo, Dr Wasim Ahmad, Dr Hasan Abbas, Dr Guodong Zhao and Dr Shuja Ansari are presented and introduced in this series of short videos.
University of Glasgow's 5G Series
Part 1: Introduction to the University of Glasgow & The Scotland 5G Centre
Part 3: Exploring Enhanced Mobile Broadband
Part 4: Introducing Ultra-Reliable Low Latency Communications 
Part 5: Introducing massive machine type communications
Part 8: Exploring holographic telepresence over 5G
Part 9: Radio frequency based internet of desks demonstration
Tags:
projects
innovation
blog