Digital Scotland 2021
Last week, The Scotland 5G Centre team attended, exhibited and hosted a masterclass and leadership stream session at FutureScot's Digital Scotland 2021 event.
An annual event for technology professionals, Digital Scotland is Scotland's largest public sector IT conference which, this year, welcomed over 700 delegates to the Edinburgh International Conference Centre (EICC) having held the conference virtually in 2020.
Representing all aspects of the digital economy, delegates heard from experts on data and artificial intelligence (AI), cloud and data management, cybersecurity, digital transformation, innovation, connectivity and smart public networks throughout the day at the event's ten masterclasses and seven leadership sessions.
Cabinet Secretary for Finance, Kate Forbes MSP gave the keynote highlighting the importance of building Scotland's strong digital foundations and securing a technology-led economic recovery, referencing The Scotland 5G Centre, the S5GConnect programme and our regionally-relevant hubs stationed across the country.
Scotland 5G Centre CEO, Paul Coffey hosted a Masterclass on 'Transforming Scotland's Digital Future Through 5G', along-side Professor Muhammad Imran, Head of the University of Glasgow's Communication, Sensing and Imaging (CSI) group and Professor Bob Stewart who leads StrathSDR, a 5G Software-Defined-Radio team at the University of Strathclyde.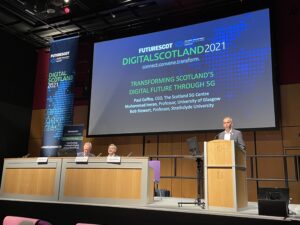 Paul also participated in the 'Innovation' leadership Stream, on combining academic expertise with powerhouse industry investment, and how data partnerships are the key to tech sector progress.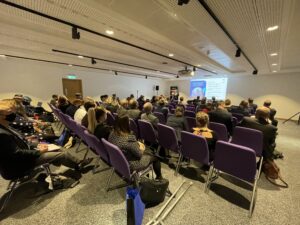 Throughout the day, the S5GC team and the University of Glasgow's Communication, Sensing and Imaging group exhibited in the main hall, showcasing the latest 5G innovations and the Centre's achievements over the last 12 months.