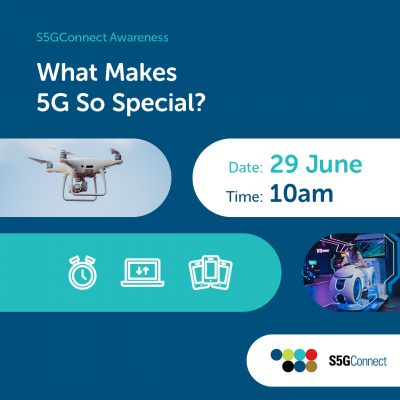 A question that has been asked in more ways than one – today we answer 'What Makes 5G So Special?'
Martyn Wallace, Chief Digital Officer for the Scottish Local Government Digital Office gave the opening speech highlighting the capabilities of 5G and its potential to innovate Scotland's key sectors including agriculture, tourism, healthcare and the creative industries. Martyn accentuated that 5G is more than just an upgraded mobile phone, and that in becoming 5G champions we can make connected devices a reality.
Malachy Devlin, Operations Director at the Scotland 5G Centre, was joined during the panel session by Mike Barlow, Sales Director of Smart Cities & Public Sector for Nokia; Shona Croy, Strategic Adviser of Renewables and Connectivity at Orkney Islands Council and Federico Boccardi, Principal Technology Advisor at Ofcom. The panel highlighted the opportunities which 5G presents and the importance of connectivity and building a strong, connected network across Scotland with a special focus on rural and remote areas where 5G would be mean a total revamp for them.
Watch the recording on our Vimeo channel
For more information and to book your place at our next events, visit:
5G in rural areas (27th July, 10am)
5G in urban areas (17th August, 10am)
Tags:
innovation
event