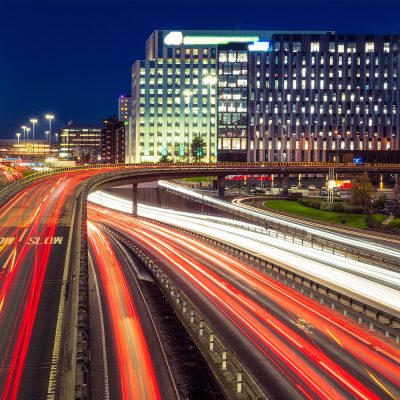 5G can unlock new opportunities for the public sector in Scotland to deploy 'smart' public infrastructure in urban areas.
For example, sensors installed in street furniture could collect and send data, and allow for intelligent management of public services. This in turn could promote a range of socio-economic benefits – increased public safety, more efficient services, lower traffic congestion and lower environmental pollution.
Example use cases
5G can support smart city use cases where a dense development of sensors is used to efficiently manage infrastructure and service, with network slicing technology to optimise network performance and reliability in real time across all services.
Increased public safety – notifications of digital signs of oncoming emergency vehicles; warning systems using low-latency connectivity to predict potential collisions and alert emergency vehicle drivers; threat and crime detection using sensors combined with high-quality audio, CCTV video and AI analytics
Lower costs through auto-dimming street lights, optimised heating and cooling of public buildings and optimised waste collection
Higher revenues through optimised use of parking spaces using sensors to monitor availability in real time
Lower traffic congestion and environmental pollution through efficient public transport passenger loading and dynamic bus routing using real-time information on utilisation, smart parking solutions and traffic management systems and pollution monitoring sensors
How we help
The Scotland 5G Centre provides a showcase for projects developing smart cities use cases, including our own Innovation Districts project. In addition:
our S5GConnect programme is helping organisations of all sizes to unlock 5G's potential for smart cities and to put Scotland at the forefront of 5G technologies in this area
our events bring together like-minded people to discuss challenges and collaborate on opportunities.
To stay in the loop, sign up to our e-newsletter and read our regular News updates.