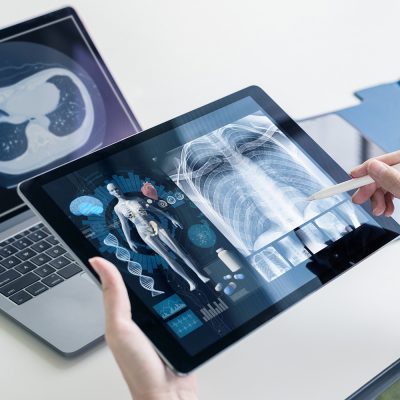 With much of Scotland's population spread over large areas or in remote locations, ensuring that a patient's health is monitored and analysed in real time is essential to support local communities and development of the rural economy.
5G has a key role to play here.
Example use cases
5G can support a connected, seamless ecosystem of devices to develop uses cases reliant on high reliability, ultra-low latency and high speeds for innovative applications of AI, robotics and high-fidelity imaging:
5G will support the transfer of point-of-care away from hospitals to GP surgeries, day clinics, care homes, patient homes and mobile ambulatory systems. This will reduce stress on overloaded healthcare systems and improve the quality of care. Healthcare professionals can remotely monitor a patient's health data using wearable medical devices or implanted biomedical devices. This allows for the real-time collection and analysis of data to support a variety of applications such as assisted living and preventative care
For those living with chronic conditions such as diabetes or asthma, IoT and 5G could be beneficial for managing treatment. A connected insulin pen, for example, could help patients to calculate correct dosages, as well as tracking data which could influence blood sugar levels, such as the time administered or types of food consumed. Connected inhalers to support asthmatics, smart contact lenses which can detect glucose levels from tear ducts, and ingestible sensors which can be built into medication to monitor prescriptions are just some types of patient care technology making headway in the healthcare market – all reinforced by 5G connectivity
5G reliable low latency capabilities will enable innovative use of robotics for remote surgery, in the emergency situations where it is needed. Surgeons will be able to perform surgery remotely using tactile sensors. When coupled with AR or VR, this technology will also help train medical professionals through realistic simulations
Preparation to receive emergency cases is improved through the efficient flow of communication between the hospital and the ambulance using 5G-enabled tele-health diagnosis. 5G can enable trauma support for emergency response vehicles from a central office. Expert paramedics can remotely diagnose the correct action to be taken at the site of the event
5G's ability to connect a large number of devices in dense areas will facilitate the more efficient management of healthcare assets and resources, beds, wheelchairs and monitors. It can also provide data to develop personalised pharmaceutical dosages that may be administered remotely
In precision medicine, security of health data is critical, requiring new approaches, such as blockchain technology, that have high compute requirements ideally suited to 5G networks. Data-intensive clinical interventions require fast and secure infrastructure. 5G will support the delivery of improved personalised healthcare through collecting, analysing and aggregating data across a spectrum of connected devices, sensors and wearables. The University of Glasgow is a global leader in this field
How we help
Our S5GConnect programme is helping organisations of all sizes to unlock 5G's potential in key sectors, including healthcare, and to put Scotland at the forefront of 5G technologies in this sector
In addition, our regular events bring together like-minded people to discuss challenges and collaborate on opportunities.
To stay in the loop, sign up to our e-newsletter and read our regular News updates.